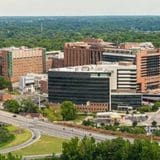 Wake Forest Baptist Health
---
Doctors Affiliated with this Treatment Facility
Contact Information
Comprehensive Cancer Center
1 Medical Center Boulevard
Winston-Salem, NC 27157
(888) 716-9253
01. Mesothelioma Care
Mesothelioma Care at Wake Forest Baptist Health
The Wake Forest Baptist Medical Center treats mesothelioma and other lung cancers at the Comprehensive Cancer Center. Their team of oncologists utilizes a multidisciplinary approach to treat early or advanced stages of mesothelioma cancer.
Their thoracic oncology clinic works to find individualized treatment for the patient, combining the expertise of surgery, chemotherapy and radiation therapy specialists. The team is also experienced in mesothelioma diagnostic testing including CT scans, chest X-rays and immunohistochemistry. Upon diagnosis, the team collaborates to determine the best, personalized treatment plan for an individual's case. For patients who may not be candidates for standard treatments, or whose mesothelioma is unresponsive, Wake Forest Medical Center also has a Precision Medicine Program that offers genomic sequencing to create personalized treatment plan based on the patient's genetics.
The Comprehensive Cancer Center offers clinical trials for patients who may also benefit from alternative treatment. The center also provides support services such as palliative care, faith and health ministries and other support programs to ensure patients and their families are as comfortable as possible during treatment.
02. Specializations
Wake Forest Baptist Health Specializations
Chemotherapy
Image-guided radiotherapy
Intensity modulated radiotherapy (IMRT)
Precision medicine
Radiation therapy
Stereotactic body radiotherapy
Surgery
Volumetric arc radiotherapy (VMAT)
03. Accreditations
Wake Forest Baptist Health Accreditations
Lung Cancer Alliance Screening Center of Excellence
National Cancer Institute (NCI) Comprehensive Care Center
National Best Hospitals for Cancer by U.S. News & World Report
World's first Leksell® Center of Radiosurgery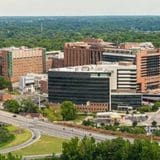 Get Help Contacting Wake Forest Baptist Health