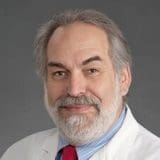 Dr. Edward A. Levine
Surgical Oncologist
---
Affiliated Treatment Facilities
Contact Information
Comprehensive Cancer Center
Medical Center Boulevard
Winston-Salem, NC 27157
(336) 716-9253
01. Doctor Overview
Doctor Overview
Board certified in general surgery, Dr. Levine's clinical interests are focused on treating patients with mesothelioma, sarcoma, melanoma, breast cancer, esophageal tumors/cancer, peritoneal carcinomatosis, and gastrointestinal cancers.
A world-renowned expert in treating peritoneal mesothelioma with hyperthermic intraperitoneal chemotherapy (HIPEC), Dr. Levine has stated that "Long-term survival is clearly possible for selected patients treated with HIPEC." An analysis of two decades of data examining 1,000 patients who underwent 1,095 HIPEC procedures at Wake Forest Baptist – 7.2% where mesothelioma was a primary tumor site – demonstrated a median overall survival of 29.9 months, with a five-year survival of 32.5%.
Levine continues to research chemotherapy, cancer, regional perfusion, peritoneal neoplasms, and antineoplastic combined chemotherapy, while investigating treatment options through active clinical trials.
02. Fast Facts
Doctor Fast Facts
Main Specialty: General Surgery
Other Interests & Specialties: General surgery, breast cancer, melanoma, mesothelioma, peritoneal mesothelioma, abdominal cancer, peritoneal carcinomatosis, hyperthermic intraperitoneal chemotherapy (HIPEC), colorectal cancer, sentinel lymph node mapping, cytoreductive surgery and surgical oncology (other than breast).
Certifications, Awards & Accolades: American Board of Surgery Certification, CMS Stage 1 EHR Certification, ACS Fellow, America's Top Doctors Award, America's Top Doctors for Cancer Award, member of the Society of Surgery of the Alimentary Tract, North Carolina Medical Society, Southern Association for Oncology, Southern Medical Association, Southern Surgical Association, Southern Surgical Congress, American College of Surgeons, Association of Academic Surgery, Connective Tissue Oncology Society, Alpha Omega Alpha, Winston-Salem Surgical Society, and The Americas Hepato-Pancreato Biliary Association
Education & Experience:
Residency for General Surgery at Michael Reese Hospital and Medical Center
Fellowship for Surgical Oncology at Abe Lincoln School of Medicine – University of Illinois
Medical Degree from Chicago Medical School at Rosalind Franklin University
03. Publications
Publications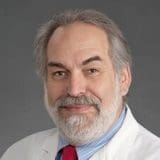 Get Help Contacting Dr. Edward A. Levine