Mesothelioma Doctors, Lawyers and Asbestos Exposure in Huntsville, Alabama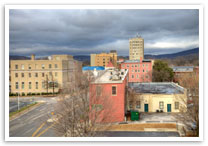 Huntsville is the fourth largest city in Alabama with an estimated population of 158,000. On November 25, 1811, Huntsville was incorporated as a town and received its present day name in honor of its first settler, John Hunt. Huntsville is also referred to as the "Rocket City" because of its commitment to space technology. The U.S. Space and Rocket Center, located in Huntsville, is Alabama's largest tourist attraction. Other attractions in Huntsville include the Huntsville Museum of Art, botanical gardens, parks, festivals and several golf courses.
During the 1840s and 1850s, Huntsville was the cotton trading center of the Tennessee Valley. In 1855, the Memphis and Charleston Railroad was built in Huntsville, and this was the first railway to link the lower Mississippi with the Atlantic coast. Industry in Huntsville declined in the 1930s with the Great Depression, but turned around after World War II. In 1950, German rocket scientists were brought to the Redstone Arsenal to develop rockets for the US Army. They developed the first rocket to orbit America's first satellite. Today, Huntsville continues to play a major role in space technology with NASA's Marshall Space Flight Center and the United States Army Aviation and Missile Command at the Redstone Arsenal.
Huntsville is home to several Fortune 500 companies, which include manufacturing, retail and service companies. Some job sites in Huntsville including, Marshall Space Flight Center, Alabama Power Company, Redstone Arsenal and others have had a history of asbestos exposure. Workers in Huntsville who were exposed to asbestos products may be at risk to develop mesothelioma, a terminal cancer.
Other Asbestos Exposure Sites in Huntsville, Alabama
The Mesothelioma Cancer Alliance has compiled information obtained from a number of sources to identify the following jobsites in Huntsville where asbestos exposure was known to have occurred. These sites are listed below.
Alabama Power Company
Automatic Electric Company
Boeing Aircraft Plant
Calabama Chemical Company
Dallas Manufacturing Company
Dunlop Tire and Rubber Company
Home Ice & Coal Company
Huntsville Arsenal
Huntsville Brick & Tile
Huntsville Ice Cream & Creamery Company
Huntsville Railway Light and Power Company
Hutchens Company
Linde Air Products Company (Union Carbide)
Marshall Space Flight Center
Merriniack Manufacturing Company
North Brothers, Inc.
Olin Mathieson Chemical Corporation
Owens Corning
Pate Supply Company of Huntsville
Pennsylvania Construction Company
Pipefitters Union - Local 377
Redstone Arsenal
Southern Railroad Siding
Thiokol Chemical Corp
Valley Packing Company
Warren Supply Company, Inc.
White Swan Laundry
Contact a Mesothelioma Doctor near Huntsville
We have compiled a list of mesothelioma doctors that practice within a 100-mile radius of Huntsville, Alabama. Click on a specific doctor link to obtain more information about their areas of expertise, background, professional affiliations, and office locations.
Dr. Benjamin Wei
The Kirklin Clinic of UAB Hospital
Thoracic Surgery Clinic
Birmingham, AL 35233
Distance: 83.8 miles
Huntsville, Alabama Mesothelioma Cancer Centers
For your convenience, we have prepared the following list of mesothelioma cancer centers located within a 100-mile radius of Huntsville, Alabama. Please click on a cancer center link to obtain more detailed information about the resources available at each one.
Locate Cancer Support Services Near Huntsville
The following cancer support services may be of help to you while you are receiving treatment for mesothelioma. Support services for mesothelioma patients include patient transport, temporary housing, physical therapy and counseling.
Alabama Treatment Support Services
Counseling & Support Groups

Mental Health Center Of North Central Alabama


(Decatur)
256-355-5904
Distance: 23.9 miles

Psychology Today


(Nationwide)

Long-Term Housing

Red Mountain Grace


(Birmingham)
866-656-9064
Distance: 84.2 miles

InTown Suites


(Nashville)
615-331-9379
Distance: 94.1 miles

Joe's House


(Statewide)
877-563-7468

Patient Transport

Caliber Patient Care of Atlanta


(LaFayette)
404-596-8450
Distance: 78.0 miles

Southeastrans


(Chattanooga )
423-893-8282
Distance: 81.1 miles

Caliber Care and Transport


(Birmingham)
205-206-6984
Distance: 84.2 miles

Medical Transport Of Alabama


(Bessemer)
888-599-2050
Distance: 92.4 miles
OnCabs


(Nashville)
615-724-9801
Distance: 96.5 miles

Tenncab LLC


(Nashville)
615-888-8888
Distance: 96.5 miles

Green Cab Inc


(Nashville)
615-424-6000
Distance: 99.0 miles

AmeriTrans


(Nationwide)
866-872-6453

Huntsville Emergency Medical Services Inc


(Bessemer)
257-874-8888

Critical Care Transport Services


(Birmingham)
345-222-3452

Physical Therapy

Nesin Physical Therapy


(Huntsville)
256-425-0300
Distance: 3.3 miles

Alliance Phyiscal Therapy


(Chattanooga )
423-362-5926
Distance: 75.1 miles

Star Physical Therapy


(Franklin)
615-591-6590
Distance: 83.5 miles

Drayer Physical Therapy Institute


(Birmingham)
205-747-2710
Distance: 87.6 miles
Filing an Asbestos Lawsuit in Huntsville, Alabama
If you were exposed to asbestos at a commercial, residential or military site in Huntsville, Alabama and have been diagnosed with mesothelioma, you may be entitled to compensation. Don't lose your right to file a lawsuit to hold those responsible accountable. You must act quickly and file your claim within the appropriate statute of limitations for the state of Alabama.
Asbestos Lawyers Servicing Huntsville, Alabama
Early, Lucarelli, Sweeney and Meisenkothen is a national law firm recognized for its representation of over 3,000 hardworking men and women who have been exposed to asbestos and diagnosed with mesothelioma. ELSM's experience in asbestos litigation spans four decades.
At Gori Julian and Associates, P.C., we have handled hundreds of mesothelioma lawsuits on behalf of people throughout the United States. This experience allows us to choose jurisdiction in which to file your case based on many factors including but not limited to state of residence, jobsites, and previous and current employers.
As one of the nation's leading mesothelioma law firms, Simmons Hanly Conroy has a proven track record. Every mesothelioma lawyer at the firm is committed to helping families affected by mesothelioma and asbestos-related diseases.
Support for Caregivers in Huntsville, Alabama
Asbestos-Related News in Alabama
Asbestos tiles at a police station in Birmingham have caused the station to close and two officers to be admitted to the hospital. The north precinct—the oldest building in the Police Department dating back over 40 years—officially closed late on Wednesday night.
Author: Linda Molinari
Editor in Chief, Mesothelioma Cancer Alliance
Read about Linda
Reviewer: Jennifer R. Lucarelli
Lawyer for Mesothelioma Victims and Their Families
Read about Jennifer