Imagine you have the perfect life. You're in prime physical condition at the peak of your career as a personal trainer. You have an amazing spouse and wonderful children and pets. You live in the Northern Beaches in Australia, an area known for its spectacular ocean views and proximity to the cultural center of Sydney. It's your fiftieth birthday, and as a celebration of life, you're giving back to the community by hosting a "Young at Heart" fitness class that will support victims of flooding in Queensland.
Then, in a random moment during that class you just happen to place your hand on a particular spot on your abdomen – and you feel a lump.
This is what happened to Galy Vee, a mesothelioma survivor and awareness advocate. "I continued teaching," she told the Mesothelioma Cancer Alliance, "had coffee and cake with all the participants at the coffee shop at the gym. We spread out to the veranda and meeting rooms. It was so much fun."
But later that day, Galy had to face a hard reality. "Once I got home I told my husband about the lump. He lead the way and said 'Doctor.' From there the journey began – a journey I am still on and will be for my whole life."
The First Warning Signs
Four months before Galy was diagnosed with mesothelioma, she went mountain climbing in the Himalayas. An avid trekker, Galy was determined to take on the Bhutan Snowman trek – one of the most difficult trails through the astoundingly beautiful and dangerous setting of the tallest mountain range in the world.
"At about 4000 meters (13,150 feet) I suffered cerebral and pulmonary edemas," Galy recalled. Characterized by fluid that filled spaces in her cerebrum and lung cavity, the edemas ultimately caused her to pass out. "After [a series of] mistakes made by the guide, I was taken to a tent where a doctor tried to bring me back from an unconscious state," she said, but the effort seemed to be too little, too late. "I was considered dead. They covered me."
Later, she was told that a Buddhist priest and a born again Christian had started observing their respective customs due to Galy's presumed passing. Unconscious, Galy says she felt a warm light summoning her from far away, but at the same time she heard the voice of her son calling her back. "He was serving in the Middle East. I heard him calling, 'Mum! I need you come to me. I need you…'"
And then Galy did what nobody expected: She woke up, screaming her son's name. Stunned, a helicopter was called to take her to safety, but it was unable to make it due to the severe weather. So Galy showed some of the determined spirit that has characterized her five-year fight with cancer.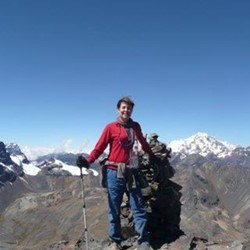 She walked for three days out of the Himalayas, mostly on her own.
Eventually, she was discovered on a road, and taken back to a hotel where she was seen by a doctor and the police. There was a search for her, she was nicknamed the helicopter lady. She immediately tried to call her son, who was somewhere in the Middle East serving in the Australian army. It took her many tries, but eventually she got hold of him. "He told me he was thinking about me and was so worried for some unknown reason," Galy remembered. "The army flew him to Australia after hearing my story. He was with me for a month."
Staying Positive and Setting an Example for Her Family
Galy recovered from her near-death experience, and a couple months later she found the lump in her abdomen. There were other signs that something was wrong, though. In particular, she experienced bloating, going from a size 8 to nearly a size 12.
"A week before I learned I had a condition, I went to have a pregnancy test," she said. "At fifty, that's not an easy issue. But I was not pregnant." With regard to her bloating, she never felt concerned. "I put it to age, and I started doing more core work."
But when Galy's husband encouraged her to see a doctor, things became serious quickly. "When I was diagnosed, the doctor told me he did not know how I survived with the amount of cysts I had in my peritoneal [cavity]." Although she didn't know it at the time, the sheer amount of mesothelioma that had developed would ultimately lead to 15 operations over the course of five years, with many months spent in the hospital, a host of complications, treatments, and an incredible amount of suffering.
Along with the diagnosis came shock and disbelief. However, her family provided support. "My husband is my rock," Galy stated. "He stands by me every day, every moment whether in the hospital or crying at home." Nonetheless, Galy understood that her husband had his own ways of dealing with the news and situation of her cancer.
Deep inside, I know my husband is terrified to lose me, and he almost has a few times. He watches the pain and suffering, he hears me at night when I am in agony. I feel that my husband suffers more than I do, at times.
The rest of her family was there to support her as well. Even so, Galy said her own tone set the standard for how they reacted. "My family follow my lead, reactions, and the way I go through things." Throughout the course of her treatment, Galy was determined to put her best foot forward to fight the disease. "Each time I came out [of surgery] with a smile and determination to keep living, to keep training, to keep walking my dogs, and to keep searching for an answer to live well, even though so much has changed."
"My family took my lead, and my hospitalization became a happy place, with hugs, smiles, laughter and tears for all," she continued. "I took on crafts and made decoration for my room and walls, which I called my happy wall."
Galy said her six children – five sons and a daughter, ranging in age from 17 to 31 – have been a particular source of happiness throughout her journey. "They laugh and smile as I laugh and smile," she said. But it isn't all happiness; she shares the bad times with them as well. "When in pain, I tell them exactly the way it is without hiding any of the facts. I tell it as facts, not with fear. They must know, but always with optimism and pride, at how we are all dealing with the situation."
Keeping Hope in a Dark Time
When asked how she was able to overcome the many obstacles she faced after being diagnosed with a deadly disease, Galy said that she concentrated on the things that were going well, rather than the things that were going poorly.
I never went into detail of what I have and what might be. I concentrated on being happy and living for the moment. I had no doubt that I will live. Death is not an option.
Instead of thinking of herself as being sick, Galy chose to characterize the mesothelioma using her own terms. "I never called my situation an illness," she declared. "It is a condition – a condition one needs to take care of."
She also attributed her positive attitude and survivorship to the medical team who helped her take care of that condition. "I was in the best hands possible: Prof. David Morris and his team." A researcher at the University of New South Wales, Dr. David L. Morris is a surgical oncologist who specializes in metastatic cancer, including peritoneal and lung metastases like mesothelioma.
However, Galy had one directive that she required Dr. Morris and her other physicians to follow. "I have asked never to be told how long I am going to live," she said. "To have the energy to be happy and ignorant at times is the way to go." For Galy, mesothelioma prognosis is a guess at best, and she wanted to focus on herself, not on the numbers and percentages that often come alongside a diagnosis.
What doctors tell you is not the final word. Words have flown about this statistic, which I simply do not want to know about. Each one of us is an individual, and each one of us should be given the chance to fight. Giving a timeline is cruel.
Her hopeful attitude doesn't mean she didn't have problems, of course. "I was resuscitated twice; I was close to death many times," she reported. "My last operation was supposed to be small. The system waited till it became an emergency. It was supposed to be an overnight one, but it became a four-week stay in the hospital, and a harsh few months after."
Every now and then, dark thoughts creep in, but Galy tries to keep them to a minimum. "At times I get tired and wish my life back, but I wake myself up knowing that is not helpful. What is important is now and what is – not what could be."
We Need to Pull Together to Ban Asbestos
Galy was exposed to asbestos as a teenager working beside her father. "Between the ages of 13 and 16, I worked nearly every Sunday with my dad at a dry cleaning factory," she told the MCA.
I mixed paints for my Dad, which he used to colour leather jackets. When I was not mixing, I wandered around the factory to look around. It was so huge, a land to explore and play. Of course, we were not aware that all the boilers, pipes, and other things were covered with asbestos, which I touched out of fascination. Little did I know!
Now, she does know, and she wants to help educate others about the dangers asbestos poses. To do that is not a small task, she admits. "You need people of power to get behind this. People who have influence and a heart need to be involved."
It can be difficult to make politicians and people in power understand the dangers of asbestos. Galy says that it may ultimately come down to chance and misfortune. "If a person of power and influence had been affected by asbestos, the U.S.A. would hear more on the issue and would act quicker," she hypothesizes.
She also understands the importance of taking legal action against those responsible for exposure. "Companies need to be sued by the groups and individuals affected. Not only would this compensate those whose lives have been ruined – if not ended. It would also create a need to ban such a dangerous material."
Planning for the Future
Although she prefers to live in the moment and experience the things happening right now, Galy does have plans for the future. Two years after her ill-fated trek in the Himalayas, Galy went to Mongolia, and her travels haven't stopped there. "I will go back to the mountains," she says with determination. "In 2017, I hope to climb Kilimanjaro again, and then trek in Alaska. Bhutan also waits, as I need to complete the Snowman trek."
She has other plans as well.
I dream of being an RPM Spin Instructor. I dream to be the best bodyArt instructor, which even without my condition would be hard at my age (55). I dream to learn to draw; I dream to do my crafts every day; I dream to get another puppy; I dream to go away for the weekend with my husband soon. I dream to keep coloring – part of my therapy.
She says having such dreams are an important part of moving forward with a positive outlook. Her advice to those diagnosed with mesothelioma? "Have five dreams and make sure you make one come true within a few months. And then replace that one with another one. Always have five dreams, no matter how large or small."
Along with those dreams, it's important to maintain a healthy lifestyle by eating right, staying fit, and keeping engaged. "The first thing is to continue to love your body. Eat healthy no matter how little you can eat, keep walking, keep exercising, and keep interested."
For herself, Galy hopes to use her knowledge about fitness and nutrition to help others. "I plan to study Medicinal Nutrition and continue my road with Body Ecology (which I believe kept me strong and fit) so I can help others with the knowledge I have. I am very passionate about sustainable living against all odds and would like to help people one by one."
Resources for Mesothelioma Patients