Lynchburg, Virginia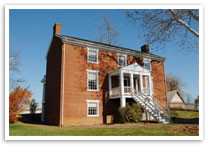 Located in the foothills of the Blue Ridge Mountains along the banks of the James River, Lynchburg is an independent city in the Commonwealth of Virginia and has a population of approximately 75,000. Lynchburg was first settled in 1757 and was named for its founder, John Lynch, who established a ferry service along the James River at the age of 17. The population grew and in 1786, Lynchburg was officially established by charter.
By the 1850s, Lynchburg was one of the richest towns per capita in the United States, with chief industries such as tobacco, iron, and steel. Local economy began to evolve into a manufacturing-based environment at the turn of the 20th century, and companies such as Glamorgan Pipe & Foundry Company and Lynchburg Cotton Mill Company opened their doors. During World War I, the Red Cross operated a canteen-serving train at the Southern Railroad Station in Lynchburg, giving the city the nickname, "Lunchburg". World War II had Lynchburg's factories running around the clock, and business thrived. Since the 1950s Lynchburg's economy has diversified with modern companies opening plants in the city, including Babcock and Wilcox, a nuclear technology company, and General Electric. Major employers currently located in Lynchburg are Griffin Pipe Products Company, Aerofin Corporation, and Teva Pharmaceuticals.
Lynchburg's longstanding manufacturing history places the city in a high risk category for asbestos exposure. Those who worked with and/or around asbestos containing products may be at risk to develop mesothelioma, an asbestos-related cancer. We provide information on mesothelioma treatment options near Lynchburg at the bottom of this page. If you were diagnosed with mesothelioma in Lynchburg, you may also benefit from seeking the advice of a mesothelioma lawyer.
Asbestos Exposure at Jobsites in Lynchburg
The Mesothelioma Cancer Alliance has compiled information obtained from a number of sources to identify the following jobsites in Lynchburg where asbestos exposure was known to have occurred. These sites are listed below.
Associated Terminal
Atomic Energy Div
Babcock and Wilcox
B-W Atomic Energy Plant
Chas V Buqq
Consolidated Textile Corps
E. J. Laveno
Glamorgan Pipe & Foundry Company
Graves Mill Rd.
John H. Heald Company
Lynchburg and Rivermount St. Railway
Lynchburg College
Lynchburg Cotton Mill Company
Lynchburg Foundry Company
Lynchburg Gas Company
Lynchburg Railway and Lighting Company
Lynchburg Traction and Light Company
Mead Corporation
Meredith/Burda Inc
Millstead Boiler & Eng Company
Monroe Construction
Naval Nuclear Fuel Division
Oriskany Ore and Iron Corp
Paul E. Styles Plastering Company
Railroad Donnelley
Randolph Macon Womans College
State Hospital
Mesothelioma Cancer Centers near Lynchburg, Virginia
For your convenience, we have compiled a list of mesothelioma cancer centers that are located within a 100 mile radius of Lynchburg, Virginia. Please click on a cancer center link to obtain more information about the clinical programs offered, professional designations, areas of expertise and how to contact the center.
Mesothelioma Doctors near Lynchburg, Virginia
For your convenience, we have compiled a list of mesothelioma doctors that are located within a 100 mile radius of Lynchburg, Virginia. Please click on a doctor link to obtain more information about his/her background, areas of expertise, professional affiliations, and office locations.
Dr. James M. Isbell
University of Virginia Cancer Center
University of Virginia Cancer Center
Cardiac Surgery Clinic
University Hospital, 2nd floor
1215 Lee Street
Charlottesville, VA 22908
Distance: 57.6 miles
Dr. David H. Harpole, Jr.
Duke Cancer Institute
2424 Erwin Road, Suite 403
Durham, NC 27705
Distance: 94.9 miles
Filing an Asbestos Lawsuit in Lynchburg, Virginia
Don't lose your rights! If you or a loved one has been diagnosed with mesothelioma and were exposed to asbestos in Virginia, you may be entitled to compensation. You may have limited time to file a claim. If you have been diagnosed with mesothelioma and have a pathology report in hand to support that diagnosis, you are eligible for financial assistance.
Asbestos Related News in Virginia
West Virginia University will receive $730,000 as part of Joe Biden's Cancer Moonshot Initiative. Learn more at the Mesothelioma Cancer Alliance.
The Staunton Courthouse has reopened, but asbestos abatement on the third floor still needs to be completed.