Mobile, Alabama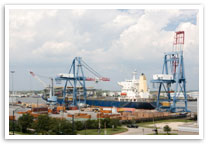 Mobile is located on the Mobile River and the Gulf of Mexico, and it is Alabama's only seaport. The city's population was 198,915 during the 2000 census, and it is the largest municipality on the Gulf Coast. Mobile is home to several art museums, a ballet company, a symphony orchestra and many historic buildings. The city was a European settlement in 1702 and was incorporated in 1814.
Since the 1830s, Mobile was focused on cotton trading. During and after World War I, manufacturing was driving Mobile's economy including shipbuilding and steel production. Mobile's population grew between 1940 and 1943 when people flocked to Mobile to work at the shipyards and Brookley Army Air Field. During World War II, Alabama Drydock and Shipbuilding Company was producing ships at a very rapid pace. The Gulf Shipbuilding Corporation, a subsidiary of Waterman Steamship Corporation, built freighters, Fletcher class destroyers, and minesweepers. After World War II, shipbuilding decreased and paper and chemical industries began to grow. In the late 1960s, Brookley Air Force Base closed which led Mobile into an economic depression that lasted into the 1970s. In 1999, shipbuilding began to make a significant comeback with the founding of Austal USA. Currently, Mobile is the ninth largest port in the United States.
Shipbuilding and military job sites in and around the Mobile area like Alabama Dry Dock and Shipbuilding, Avondale Shipbuilding and Brookley Air Force Base have known asbestos exposure risks. Use of asbestos-containing products in these shipyards, military bases as well as other jobsites was prevalent in Mobile especially between 1930-1980. If you or a loved one were exposed to asbestos in Mobile, you may be at risk to develop malignant mesothelioma.
Asbestos Exposure at Jobsites in Mobile
The Mesothelioma Cancer Alliance has compiled information obtained from a number of sources to identify the following jobsites in Mobile where asbestos exposure was known to have occurred. These sites are listed below.
Abiqua
Ace Fabrication
Ackia
Alabama Dry Dock and Shipbuilding
Alabama Power & Light Company
Alabama State Docks
Alexander H. Stephens
Aluminum Company of America
American Cyanamid
American Laundry Company
Amison General Builders & Contractors
Anco Insulations of Mississippi, Inc.
Apache Canyon
Archers Hope
Arthur Middleton
Ash Hollow
Atlantic Land Company
Atlas
Auxiliary Pumping Plant
Barry Steam Plant
Beaver Dam
Beecher Island
Bell Telephone
Bemis Bag Company
Bendix Corporation
Betbeze Spring Service
Bethlehem Steel Shipyard
Birch Coulie
Black River
Blakely Island Refinery
Boilermakers Union - Local 110
Boonesborough
Brookley Air Force Base
Brookley Industrial Complex
Brown & Root Incorporated - Gas Turbine
Buffalo Wallow
Cabusto
Cahawba
Callabee
Camas Meadows
Camp Defiance
Canyon Creek
Caribbean Steamship Company
Cayuse
Cedar Mills
Champion Paper Company
Chatterton Hill
Chicaca
Chickasaw Steam Plant
Ciba Geigy Chemical Company
Clark Mills
Coastal Chemical
Coca Cola Bottling Company
Colin P. Kelly, Jr.
Container Corp
Cortaulds
Cottonwood Creek British
Council Grove
Crichton Station
Crow Wing
Diamond Shamrock Chemicals
Diamondhead
Dobytown
Doctors Hospital of Mobile
Doran Propellers
El Caney
Electric Lighting. Company of Mobile
Evans Creek
Fidelity Warehouse Corporation
First National Bank Building
Fort Bridger
Fort Fetterman
Fort Laramie
Fort Mims
Fort Pitt
Fort Ridgely
Fort Robinson
Fort Ruckter Lyster Army Hospital
Fort Stevens
Four Lakes
G. A. Leftwich
Gaf Armstrong
Gaf Corporation
General Electric
General Hospital School of Nursing
Gold Creek
Golden Hill
Grand River
Gulf Development Company
Gulf Electric Plant
Gulf Flooring
Gulf Lumber Company
Gulf Mobile & Ohio R R Company
Gulf Ship Building Company
Gulf States Paper
Haas Davis Packing Company
Hammermill International Paper
Hat Creek
Henry Clay
Hercules
Hollingsworth & Whitney Company
Home Industry Iron Works
Honningsvaag
Horras S Turner Lumber Company
Horseshoe
Houston Compress
Ideal Cement Company
Independent Gulf Line
Insulation Engineers, Inc.
International Paper Company
International Paper Mill
Ironworkers Union - Local 60
Israel Putnam
J.L.M. Curry
James Hoban
Jefferson Davis
Joel Chandler Harris
John Marshall
Johns Bargain House Corporation
Jos Mcwilliams and Company
Joseph Wheeler
Judah P. Benjamin
Julesburg
Kaposia
Kathio
Kerr Mcgee Chemical Corporation
Larkspur (Lighthouse Tender)
Lawton B. Evans
Linde Air Products Company
Little Big Horn
Little Butte
Magnolia Janitor
Marathon Southern Corp
Marine Spec
Marine Specialty Company Inc
Maritime Shipyard
Mcclellan Creek
Mcwane Pipe
Meador Warehouse
Mobile Bay
Mobile Electric Light and Power Company
Mobile Energy Services
Mobile Infirmary
Mobile Light and Railroad Company
Mobile Linen Service
Mobile Mill
Mobile Paper Company
Mobile Pulley Works
Mobile Regional Airport
Mobile Ship Repair Company
Mobile Shipyard
Mobile Vehicular Tunnel System
Mobile Water Works
Mocasin Gap
Moffort Team Track
Moore Mccormick
Nathaniel Macon
National Gypsum Plant
New Providence Hospital
Nordahl Grieg
North Point
Old Cotton Mill Site
Old Sanders Cotton Mill Site
Olin Chemical
Painters Union - Local 779
Palo Duro
Pan American Shell Products Company
Pate Stevedore
Paulus Hook
Pawnee Rock
Peerless Steam Laundry and Dyeing
Phantom Hill
Pine Ridge
Pipefitters/Boilermakers Union - Local 119
Platte Bridge
Pocket Canyon
Powder River
Proividence Infirmary
Public Library Lecture Hall
Quaker Hill
Quemado Lake
Ratcliff Construction
Raton Pass
Red Bank
Red Canyon
Reynolds Metals Company
Rock Landing
Rogue River
Ruberoid Company
Ruberoid/ Gaf
S.L. Adler Residence
Sam Joy Laundry Inc
San Juan Hill
Sanders Cotton Mill - Barkers Spur
Sappa Creek
Scott Paper Company
Scott Paper Mill
Seaboard Manufacturing Company
Seneca Castle
Shell Chemical
Shook & Fletcher Insulation Company
Sideling Hill
Simon Willard
Skull Bar
Smith Kelly Supply Company
Sothern Kraft Corp
South Paper Company Southern Div.
Southeastern Compress and Warehouse
Southern Electrical & Pipefitting
Southern Kraft Corporation
Spirit Lake
St. Regis Paper Mill
Standard Equipment Company
Standard Oil
State Docks
Stauffer Chemical
Stone Container Corporation
Sweet Water
The Cabins
The Cottonwoods
Thomas Heyward
Touchet
Tule Canyon
Turner Supply
Union Carbide
Union Carbide Corporation
Virginia Chemical
Wagon Box
Wagon Mound
Wahoo Swamp
War Bonnet
Warrent Warehouse Company
Washita
Waterman Steam Ship Company
Watermans Shipyard
Welders Union - Local 170
Western Electric
White Bird Canyon
White River
Wilson's Creek
Wolf Mountain
Wood Lake
Wyoming Valley
Filing an Asbestos Lawsuit in Mobile, Alabama
Don't lose your rights! If you or a loved one has been diagnosed with mesothelioma and were exposed to asbestos in Alabama, you may be entitled to compensation. You may have limited time to file a claim. If you have been diagnosed with mesothelioma and have a pathology report in hand to support that diagnosis, you are eligible for financial assistance.
Asbestos Related News in Alabama
Asbestos tiles at a Birmingham, Alabama, police station have caused it to shut down, and two officers have been admitted to the hospital. Read more at the Mesothelioma Cancer Alliance.