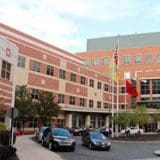 Rutgers Cancer Institute of New Jersey
---
Doctors Affiliated with this Treatment Facility
Contact Information
195 Little Albany Street
New Brunswick, NJ 08903
(732) 235-2465
01. Mesothelioma Care
Mesothelioma Care at Rutgers Cancer Institute of New Jersey
Rutgers Health offers mesothelioma cancer treatment through its Rutgers Cancer Institute of New Jersey. Rutgers uses a patient-centered approach, using a multidisciplinary team to develop a treatment plan that is specific to the patient's wants and needs. For specialized care, Rutgers offers a Mesothelioma Treatment and Research Program.
Mesothelioma patients that attend Rutgers Cancer Institute receive care from surgical oncologists, medical oncologists and radiation oncologists, allowing them to undergo surgery, chemotherapy, radiation and other cancer treatments. Rutgers also offers clinical trials to eligible mesothelioma patients with the latest experimental treatments.
Within the Rutgers team of specialists resides Dr. H. Richard Alexander, Jr. He serves on the Board of Directors for the Mesothelioma Applied Research Foundation, allowing him to bring the latest mesothelioma news to the Rutgers treatment program. The research aspect of the mesothelioma program at Rutgers allows patients to have access to the latest diagnostic tools and treatment techniques.
Patients also have access to various support services at the Cancer Institute of New Jersey to help with their treatment and survivorship journey. Social work, cancer exercise groups, education programs and a cancer transitions group allow patients to maintain comfort and high quality of life.
02. Specializations
Rutgers Cancer Institute of New Jersey Specializations
Mesothelioma clinical trials
Peritoneal mesothelioma
Pleural mesothelioma
03. Accreditations
Rutgers Cancer Institute of New Jersey Accreditations 
BIG Cancer Research Consortium member
National Cancer Institute Comprehensive Cancer Center designation
ScreenNJ Cancer Prevention Education and Detection partner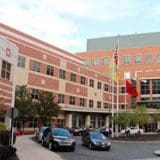 Get Help Contacting Rutgers Cancer Institute of New Jersey