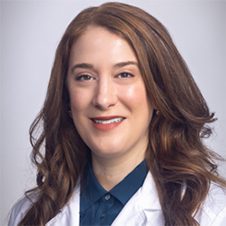 Dr. Alissa Greenbaum
Surgical Oncologist
---
Affiliated Treatment Facilities
Contact Information
University of New Mexico Hospitals
2211 Lomas Boulevard NE
Albuquerque, NM 87106
(505) 272-2111
01. Doctor Overview
Doctor Overview
Dr. Alissa Greenbaum is the program director of the University of New Mexico (UNM) Peritoneal Surface Malignancy Program. It is the only cytoreductive surgery and HIPEC program in New Mexico. She is also an assistant professor of surgery in the Division of Surgical Oncology at the UNM School of Medicine. She specializes in gastrointestinal and peritoneal surface malignancies, including peritoneal mesothelioma.
While completing her residency at UNM for general surgery, Dr. Greenbaum found a new interest in surgical oncology. This led to a two-year fellowship during her residency at UNM.
Post-graduation, Dr. Greenbaum completed the Complex General Surgical Oncology Fellowship at the Rutgers Cancer Institute of New Jersey. She also earned a master's certificate in clinical and translational science from Rutgers.
During her time at Rutgers, Dr. Greenbaum was mentored by Dr. H. Richard Alexander, Jr., a renowned specialist in malignant peritoneal mesothelioma treatment.
Dr. Greenbaum also has experience working with underserved communities. In San Francisco, she volunteered for AmeriCorps and worked with migrant workers and homeless youth. Dr. Greenbaum is fluent in Spanish and is a bilingual provider. She works closely with indigenous communities and Native American tribes across New Mexico.
02. Fast Facts
Doctor Fast Facts
Main Specialty: Gastrointestinal and Peritoneal Surface Malignancies
Other Interests & Specialties: Soft tissue sarcoma, carcinoid tumors, resident wellness, surgical ergonomics, cytoreductive surgery and hyperthermic intraperitoneal chemotherapy (HIPEC), Native American health and intercultural healthcare approaches, cancer screenings, clinical trials and robotic surgery.
Certifications, Awards & Accolades: Master's Certificate in Clinical and Translational Science, American Board of Surgery Certification in Surgery, certified in robotic surgery
Education & Experience:
Medical Degree from Oregon Health and Science University
Residency in General Surgery at University of New Mexico Health Sciences Center
Fellowship in Complex General Surgical Oncology at the Rutgers Cancer Institute of New Jersey/Robert Wood Johnson Hospital
03. Publications
Publications
Expression of PD-L1 in Patients With Malignant Peritoneal Mesothelioma: A Pilot Study. Journal of Surgical Research. September 2022;277:131-137. doi: 10.1016/j.jss.2022.04.005
Effect of the COVID-19 pandemic on surgical oncology practice-Results of an SSO survey. Journal of Surgical Oncology. June 2022;125(8):1191-1199. doi: 10.1002/jso.26839
Peritoneal mesothelioma. Translational Lung Cancer Research. February 2020;9(Suppl 1):S120-S132. doi: 10.21037/tlcr.2019.12.15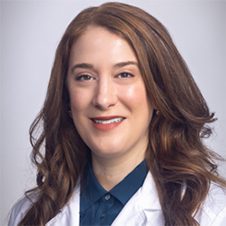 Get Help Contacting Dr. Alissa Greenbaum