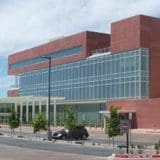 University of New Mexico Comprehensive Cancer Center
---
Doctors Affiliated with this Treatment Facility
Contact Information
1201 Camino de Salud North East
Albuquerque, NM 87102
(505) 272-4946
01. History
History of the University of New Mexico Comprehensive Cancer Center
Located in Albuquerque, New Mexico, the University of New Mexico (UNM) Comprehensive Cancer Center is the southwestern state's only National Cancer Institute-designated cancer center. The UNM Cancer Center has been named the "official cancer center" of the state of New Mexico by the state's legislature. The UNM Comprehensive Cancer Center is part of the University of New Mexico Health Sciences Center, the largest academic health complex in the state. The complex – which includes the UNM Hospitals, College of Nursing, School of Medicine, Cancer Research and Treatment Center, College of Pharmacy and Health Sciences Library and Informatics Center – was created in 1994 when the university's Board of Regents voted to unite the school's health-related academic and clinical organizations into one entity. The UNM Health System cares for over 200,000 patients each year, with the cancer center treating at least 60% of cancer patients in the state.
The center is home to the largest and most experienced team of cancer experts in the state, including more than 85 board-certified oncologist physicians recruited from some of the most prestigious cancer hospitals. In addition to patient care, the center is also the home to cutting-edge research conducted by over 100 researchers.
02. Mesothelioma Care
Mesothelioma Care at the University of New Mexico Comprehensive Cancer Center
Experts at UNM Comprehensive Cancer Center specialize in thoracic oncology and treating mesothelioma cancer. The center treats mesothelioma in its early stages and advanced cases that require a more complex treatment method.
The center offers a variety of diagnostic testing, such as fine-needle aspiration and thoracotomy, to detect mesothelioma cancer. Staging tests are also conducted to evaluate if the cancer has spread in order to create a treatment plan for the patient. Surgery options, as well as chemotherapy and radiation therapy, are available to patients on an individualized basis to ensure the proper care is given for their specific diagnosis.
UNM Comprehensive Cancer Center is home to four National Cancer Institute research programs, which focus on areas like cancer biology, genetics, cancer control and developing new treatments. Together, all of these research programs create opportunities for clinical trials for patients who seek out alternative treatment. Patient services are also available for patients and their families, that help with organizing medical records, bills and other financial issues associated with cancer treatment.
03. Specializations
University of New Mexico Comprehensive Cancer Center Specializations
Chemotherapy
Pathology
Radiation therapy
Radiology
Surgery
04. Accreditations
University of New Mexico Comprehensive Cancer Center Accreditations
National Cancer Institute (NCI) Comprehensive Cancer Center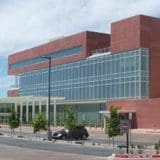 Get Help Contacting University of New Mexico Comprehensive Cancer Center