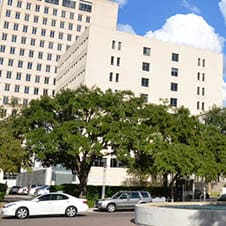 Lung Institute at Baylor College of Medicine
---
Contact Information
Baylor Clinic
6620 Main Street
13th Floor, Suite 1325
Houston, TX 77030
(713) 798-6376
The Lung Institute at Baylor College of Medicine officially opened in July 2014. The Institute is based at Baylor St. Luke's Medical Center and is part of Catholic Health Initiatives (CHI) St. Luke's Health.
The Lung Institute at Baylor College of Medicine offers patients individualized treatment plans guided by the expertise of a multispecialty team of professionals from the areas of medical oncology, pulmonary medicine, radiation oncology, radiology and thoracic surgery. These medical professionals use the latest advances in technology, and the resources of the internationally recognized genetics and genome sequencing programs established at Baylor, to treat patients.
Baylor College of Medicine has a designated Mesothelioma Treatment Center at their Lung Institute to offer treatment plans for patients suffering with mesothelioma cancer. They use a multidisciplinary and multimodal approach to treatment, meaning experts in different areas are able to treat the cancer with various methods, like combining chemotherapy and surgery.
Advanced tissue and blood tests are completed to determine the best possible treatment method by analysing samples for distinct genes and immune markers that can help determine what therapies would be most effective. The Lung Institute and Thoracic Surgery Clinic work together with the Mesothelioma Treatment Center to tailor a personalized treatment plan based on the patient's mesothelioma diagnosis, typically undergoing surgery as a first-line treatment method for eligible patients. Experts in radiology, pathology and oncology are also available to explore other methods of treatment to improve a patient's quality of life.
Patients may also participate in the center's mesothelioma clinical trials if they are eligible. Ongoing clinical trials for immune-based treatment are available specifically to mesothelioma patients who fit the necessary criteria. The Baylor Clinic also offers various supportive programs, including help for patients and families in need of lodging for extended stays.
Specializations:
Medical oncology
Pulmonary medicine
Radiation oncology
Radiology
Accreditations:
NCI-Designated Comprehensive Cancer Center
Sorry, there are no clinical trials to display
Related pages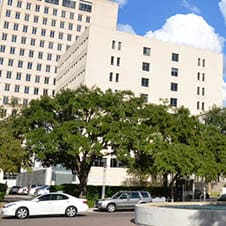 Get Help Contacting Lung Institute at Baylor College of Medicine
Free
Mesothelioma Treatment Guide
Please fill in the form to request our FREE Mesothelioma Treatment Guide.
It will be sent to you within 24 hours.