Asbestos Exposure, Mesothelioma Doctors and Lawyers in Selma, Alabama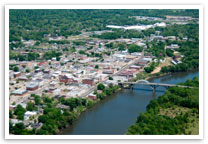 Selma was incorporated in 1820. It is in Dallas County situated on the high banks of the Alabama River. Selma has the largest historic district in Alabama, with more than 1,200 historic structures, homes and museums. Selma is often referred to as the "Queen City" because it is a regional retail, medical, employment and cultural hub for residents of Dallas, Perry, Wilcox and Lowndes counties. In 1989, the Eastern Tiger Swallowtail butterfly was designated as the official state mascot, and Selma was designated as the "Butterfly Capital" of Alabama. The downtown area is decorated with more than 40 butterfly sculptures. Selma is home to a number of colleges including Selma University, Wallace Community College, and Concordia College. The town of Selma is widely known for its role during the Civil Rights Movement, particularly for the 1965 Selma Voting Rights Movement and for the three Selma to Montgomery marches that began in the city.
During the Civil War, Selma was one of the South's major military manufacturing centers, producing large amounts of supplies and munitions, and turning out Confederate warships such as the ironclad Tennessee. Other industries in Selma include International Paper, Bush Hog, Meadowcraft, and Peerless Pump Company (LaBour).
Exposure to asbestos in the workplace has been an enduring problem in and around Selma primarily in the manufacturing, construction and military industries. If you or a loved one were exposed to asbestos in Selma, you may be at risk to develop an asbestos disease like mesothelioma.
Other Asbestos Exposure Sites in Selma, Alabama
The Mesothelioma Cancer Alliance has compiled information obtained from a number of sources to identify the following jobsites in Selma where asbestos exposure was known to have occurred. These sites are listed below.
Ala Metallurgical Corp
Alabama Kraft Mead Paper Mill
Alabama Metallurgical
Alabama Metallurgical Corp
Buckeye Cotton Oil Company
Combustion Construction Company
Craig Airforce Base
Hammermill Paper Company
Henry Brick Company
International Paper Company
New Vaughn Memorial Hospital
Selma Paper Mill
Southern Natural Gas
The Buckeye Cotton Oil Company
Toccoa Manufacturing Corporation
Locate a Mesothelioma Doctor near Selma, Alabama
We have compiled a list of mesothelioma doctors and oncologists that practice within a 100-mile radius of Selma, Alabama. Click on a specific doctor link to obtain more information about their areas of expertise, background, professional affiliations, office locations and contact information.
Dr. Benjamin Wei
The Kirklin Clinic of UAB Hospital
Birmingham, AL 35233
Distance: 74.3 miles
Mesothelioma Cancer Centers near Selma, Alabama
For your convenience, we have compiled a list of mesothelioma cancer centers that are located within a 100-mile radius of Selma, Alabama. Please click on a cancer center link to obtain more information about the clinical programs offered, areas of expertise and how to contact the cancer center.
Mesothelioma Patient Support Services near Selma
Cancer support services for mesothelioma patients include patient transport, temporary housing, physical therapy and counseling. The following local services may be of help to you while you are receiving treatment for mesothelioma.
Alabama Treatment Support Services
Counseling & Support Groups

Psychology Today


(Nationwide)

Long-Term Housing

Red Mountain Grace


(Birmingham)
866-656-9064
Distance: 73.9 miles

Joe's House


(Statewide)
877-563-7468

Patient Transport

Medical Transport Of Alabama


(Bessemer)
888-599-2050
Distance: 66.3 miles

Caliber Care and Transport


(Birmingham)
205-206-6984
Distance: 73.9 miles
AmeriTrans


(Nationwide)
866-872-6453

Huntsville Emergency Medical Services Inc


(Bessemer)
257-874-8888

Critical Care Transport Services


(Birmingham)
345-222-3452

Physical Therapy

Bench Mark Physical Therapy


(Helena)
205-621-8822
Distance: 55.8 miles

Drayer Physical Therapy Institute


(Birmingham)
205-747-2710
Distance: 70.6 miles
Filing an Asbestos Lawsuit in Selma, Alabama
If you or a loved one has been diagnosed with mesothelioma and were exposed to asbestos at a commercial, residential or military site in Selma, Alabama, you may be entitled to compensation. Don't lose your right to file a claim. You must act quickly and file your claim within the appropriate statute of limitations for the state of Alabama.
Asbestos Lawyers Servicing Selma, Alabama
Early, Lucarelli, Sweeney and Meisenkothen is a national law firm recognized for its representation of over 3,000 hardworking men and women who have been exposed to asbestos and diagnosed with mesothelioma. ELSM's experience in asbestos litigation spans four decades.
At Gori Julian and Associates, P.C., we have handled hundreds of mesothelioma lawsuits on behalf of people throughout the United States. This experience allows us to choose jurisdiction in which to file your case based on many factors including but not limited to state of residence, jobsites, and previous and current employers.
As one of the nation's leading mesothelioma law firms, Simmons Hanly Conroy has a proven track record. Every mesothelioma lawyer at the firm is committed to helping families affected by mesothelioma and asbestos-related diseases.
Resources for Selma, Alabama Mesothelioma Patients
Asbestos-Related News in Alabama
Asbestos tiles at a Birmingham, Alabama, police station have caused it to shut down, and two officers have been admitted to the hospital. Read more at the Mesothelioma Cancer Alliance.
Author: Linda Molinari
Editor in Chief, Mesothelioma Cancer Alliance
Read about Linda
Reviewer: Jennifer R. Lucarelli
Lawyer for Mesothelioma Victims and Their Families
Read about Jennifer