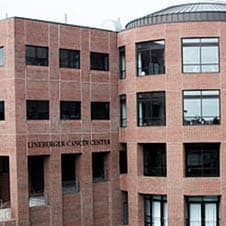 UNC Lineberger Comprehensive Cancer Center
---
Contact Information
N.C. Cancer Hospital
101 Manning Drive
Chapel Hill, NC 27514
(866) 869-1856
The UNC Lineberger Comprehensive Cancer Center is the only public comprehensive cancer center in North Carolina. The center is located on the UNC Chapel Hill campus and was established in 1975.
The Thoracic Oncology Program at UNC Lineberger Comprehensive Cancer Center treats mesothelioma with a multidisciplinary approach. Experts in thoracic surgery, medical and radiation oncology and pulmonary medicine combine their specializations to provide treatment and care to patients suffering from mesothelioma.
As part of a new patient diagnosis, a team of experts hold a conference to discuss the best method of treatment for a patient based on their diagnosis. Surgery is often a first-line treatment, including pneumonectomy procedures or video-assisted thoracoscopic surgery (VATS) in order to remove the cancerous parts of the lung or the entire lung in some cases. The center is also among the first to utilize CT-based three-dimensional (3D) imaging to plan for radiation treatment. The process can be instrumental in finding the precise location of a tumor for accurate radiation treatment.
Clinical trials are available to patients upon diagnosis if their primary physician thinks the patient may be a good fit and if the patient meets the eligibility criteria for the trial. Their research includes immunology and other emerging therapies. The center offers six support programs through their Comprehensive Cancer Support Program, including mental health services, survivorship, patient and family resources, integrative medicine, support care and wellness.
Specializations:
Fine needle aspiration
Pneumonectomy
Transbronchial biopsy
Thoracoscopic biopsy with CT-guided localization
Video-assisted thoracoscopic surgery (VATS)
Accreditations:
Commission on Cancer (CoC) accreditation
National Cancer Institute (NCI) Comprehensive Cancer Center
Mesothelioma Clinical Trials at UNC Lineberger Comprehensive Cancer Center
The following clinical trials are in progress or actively recruiting participants at UNC Lineberger Comprehensive Cancer Center:
---
Conditions: Neoplasms
Last Updated: February 19, 2020
Status: Recruiting
Related pages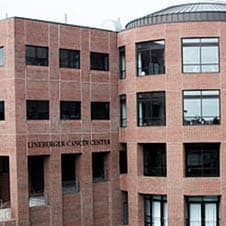 Get Help Contacting UNC Lineberger Comprehensive Cancer Center
Free
Mesothelioma Treatment Guide
Please fill in the form to request our FREE Mesothelioma Treatment Guide.
It will be sent to you within 24 hours.