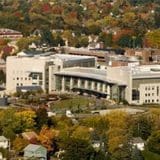 The University of Vermont Cancer Center
---
Doctors Affiliated with this Treatment Facility
Contact Information
111 Colchester Avenue
Main Campus, East Pavilion, Level 5
Burlington, VT 05401
(800) 358-1144
01. History
History of The University of Vermont Cancer Center
The University of Vermont Cancer Center is a comprehensive clinical and research cancer facility, founded in 1974 with a close partnership with the larger University of Vermont Medical Center. Committed to research, prevention, treatment and cancer-related public education, this facility has made significant contributions to cancer clinical trials and their findings have resulted in a better understanding of the disease. These contributions include the finding of links between cancer and high cholesterol, the discovery of inherited risk factors for breast cancer and the pioneering of a biopsy that has put a new spin on treatment for several forms of cancer.
02. Mesothelioma Care
Mesothelioma Care at The University of Vermont Cancer Center
Doctors and researchers at the University of Vermont Cancer Center are renowned specialists in lung cancer and other similar diseases. As a comprehensive cancer center, patients with all types of cancer, including mesothelioma, will meet with experts in multiple specialties, like medical oncology and surgical oncology, when developing the optimal treatment plan. Each patient receives personalized care to improve life expectancy and overall quality of life.
The UVM Cancer Center provides a chance to participate in a host of clinical trials, at the recommendation of the patient's medical team. The facility is the major resource for clinical trials in Vermont and surrounding areas, offering patients the opportunity to receive emerging, promising treatments like immunotherapy and gene therapy. In addition, the center offers pain management services, palliative/end-of-life care, support groups, transportation and lodging assistance, individual psychological counseling and the opportunity for a one-on-one mentor service that pairs cancer patients with others like them who are fighting or have fought the same kind of cancer.
03. Specializations
The University of Vermont Cancer Center Specializations
Cancer prevention and screenings
Cancer diagnostics
Cancer genomics
Translational research
04. Accreditations
The University of Vermont Cancer Center Accreditations
Academic Medical Centers in the US Top Rank
U.S. News & World Report Best Regional Hospital
Joint Commission accreditation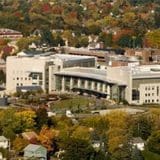 Get Help Contacting The University of Vermont Cancer Center