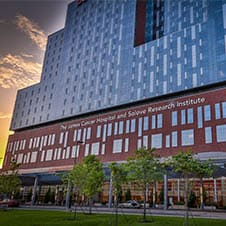 The Ohio State University Comprehensive Cancer Center
---
Doctors Affiliated with this Treatment Facility
Contact Information
The James Cancer Hospital and Solove Research Institute
460 West 10th Avenue
Columbus, OH 43210
(800) 293-5066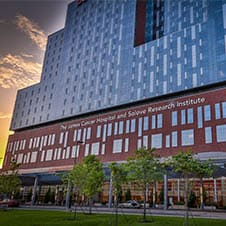 The Ohio State University Comprehensive Cancer Center
---
Doctors Affiliated with this Treatment Facility
Contact Information
The James Cancer Hospital and Solove Research Institute
460 West 10th Avenue
Columbus, OH 43210
(800) 293-5066
01. History
History of The Ohio State University Comprehensive Cancer Center
The Arthur G. James Cancer Hospital and Richard J. Solove Research Institute (OSUCCC – James) is a National Cancer Institute-designated comprehensive cancer center. The center has maintained this designation since 1976. The more than 300 cancer researchers at the center provide individualized care for all cancer patients treated at the OSUCCC – James.
The OSUCCC – James leads the James Cancer Network, enabling patients to receive excellent care across the state of Ohio. Included in the network are the Wooster Community Hospital Health System, Madison County, Clinton Memorial Hospital and St. Rita's Medical Center. The network elevates the care given across the state. The OSUCCC – James also offers cutting edge pediatric cancer care through the Nationwide Children's Hospital (NCH).
02. Mesothelioma Care
Mesothelioma Care at The Ohio State University Comprehensive Cancer Center
Mesothelioma care offered at OSUCCC – James uses the most innovative treatment modalities offered across the United States. The physicians at the cancer center use standard therapies, like chemotherapy, radiation and surgery, as well as less accessible and more complicated therapies including monoclonal antibody therapy and other immunotherapies through clinical trials. The center is particularly experienced in treating peritoneal mesothelioma, offering specialized treatments like hyperthermic intraperitoneal chemotherapy (HIPEC).The multidisciplinary teams at OSUCCC – James provide patients with the best care possible to not only treat their cancer but also improve their overall quality of life.
03. Specializations
The Ohio State University Comprehensive Cancer Center Specializations
Chemotherapy
Clinical trials
Hyperthermic intraperitoneal chemotherapy (HIPEC)
Immunotherapy
Intensity-modulated radiation therapy
Medical oncology
Mesothelioma
Monoclonal antibody therapy
Pleural mesothelioma
Peritoneal mesothelioma
Radiation oncology
Surgical oncology
Thoracic surgeons
04. Accreditations
The Ohio State University Comprehensive Cancer Center Accreditations
American College of Surgeons Commission on Cancer (CoC) Accreditation
Cancer Center ranked as High Performing according to U.S. News & World Report Best Hospitals report
Foundation for the Accreditation of Cellular Therapy
Member of the National Comprehensive Cancer Network (NCCN)
National Cancer Institute (NCI) Designated Comprehensive Cancer Center
The Joint Commission Accreditation
05. Mesothelioma Clinical Trials
Mesothelioma Clinical Trials at The Ohio State University Comprehensive Cancer Center
The following clinical trials are in progress or actively recruiting participants at The Ohio State University Comprehensive Cancer Center:
---
Conditions: Carcinoma, Neoplasms, Carcinoma, Squamous Cell, Adenocarcinoma, Neoplasms, Germ Cell and Embryonal, Mesothelioma, Nasopharyngeal Carcinoma, Cholangiocarcinoma, Carcinoma, Basal Cell, Gastrointestinal Stromal Tumors, Carcinoid Tumor, Carcinoma, Transitional Cell, Carcinoma, Adenoid Cystic, Teratoma, Adenocarcinoma of Lung, Carcinoma, Neuroendocrine, Pheochromocytoma, Seminoma, Choriocarcinoma, Cystadenocarcinoma, Serous, Cystadenocarcinoma, Carcinoma, Endometrioid, Paraganglioma, Chordoma, Hemangiosarcoma, Fibromatosis, Aggressive, Adenocarcinoma, Clear Cell, Adenocarcinoma, Mucinous, Trophoblastic Neoplasms, Gestational Trophoblastic Disease, Nerve Sheath Neoplasms, Neurofibrosarcoma, Thyroid Neoplasms, Fibroma, Cystadenocarcinoma, Mucinous, Pseudomyxoma Peritonei, Vulvar Neoplasms, Sex Cord-Gonadal Stromal Tumors, Adrenocortical Carcinoma, Carcinoma, Islet Cell, Paget Disease, Extramammary, Adenocarcinoma, Papillary, Carcinoma, Acinar Cell, Adenocarcinoma, Bronchiolo-Alveolar, Mixed Tumor, Mullerian, Neoplasms, Unknown Primary, Carcinoma, Giant Cell
Last Updated: April 3, 2021
Status: Recruiting
---
Conditions: Mesothelioma, Lung Neoplasms
Last Updated: February 26, 2021
Status: Recruiting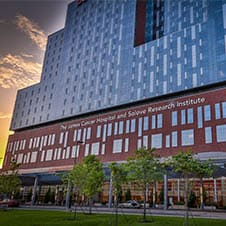 Get Help Contacting The Ohio State University Comprehensive Cancer Center