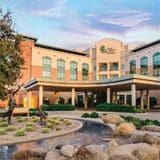 Cancer Treatment Centers of America, Phoenix
---
Contact Information
Comprehensive Cancer Care Network
14200 West Celebrate Life Way
Goodyear, AZ 85338
(855) 408-5909
01. History
History of Cancer Treatment Centers of America, Phoenix
Cancer Treatment Centers of America (CTCA) was founded in memory of Mary Brown Stephenson, who lost her battle with cancer in 1982. Stephenson's son, a merchant banker named Richard J. Stephenson, had been disappointed by the treatment options presented to his mother. He felt that cancer hospitals, even those regarded as the best in the world, were focused too heavily on the clinical and technical aspects of the disease, often overlooking the individual needs of the patient.
In response, Richard J. Stephenson brought together a group of cancer doctors and founded a hospital with a different mission: to deliver "whole-person cancer treatment" in a nurturing environment. The result was Cancer Treatment Centers of America. The first center, located in Zion, Illinois, opened its doors in 1988. Since then, additional locations have opened in Tulsa, Oklahoma, Philadelphia, Pennsylvania, and in Goodyear, Arizona. The Western Regional Medical Center is the newest CTCA facility, and has been treating patients since December 29, 2008. Today, it is known as The Cancer Treatment Centers of America (CTCA), Phoenix.
02. Mesothelioma Care
Mesothelioma Care at Cancer Treatment Centers of America, Phoenix
The Cancer Treatment Centers of America, Phoenix specializes in treating mesothelioma and providing both treatment options and support therapies to ensure comfort throughout the process.
Experts at the cancer center specialize in chemotherapy, immunotherapy, radiation therapy, surgery and targeted therapies such as anti-angiogenesis drugs to treat mesothelioma. Their team-based approach creates a multi-faceted treatment plan for patients, and they work to treat every stage of mesothelioma cancer. Therapies to reduce symptoms are also available for patients who experience side effects as a result of treatment or their condition.
The center offers clinical trials to eligible patients for further treatment options. With integrative care to support patients with the emotional and physical hardships of a cancer diagnosis, patients are provided with a well-rounded treatment plan that promotes healthy and comfortable living. The CTCA offers pain management, mesothelioma nutrition therapy and oncology rehabilitation to enable patients to rebuild their strength and endurance during treatment and beyond.
03. Specializations
Cancer Treatment Centers of America, Phoenix Specializations
Chemotherapy
Radiation therapy
Immunotherapy
Interventional pulmonology
Surgery
Targeted therapy
04. Accreditations
Cancer Treatment Centers of America, Phoenix Accreditations
Recognized as meeting the highest standards for quality cancer care by the Quality Oncology Practice Initiative (QOPI) Certification Program
American College of Radiology (ACR) accreditation
Commission on Cancer (CoC) accreditation
College of American Pathologists (CAP) accreditation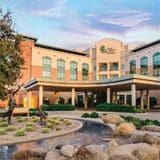 Get Help Contacting Cancer Treatment Centers of America, Phoenix