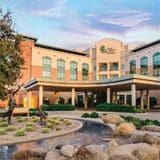 ---
Contact Information
Comprehensive Cancer Care Network
14200 West Celebrate Life Way
Goodyear, AZ 85338
(866) 760-6554
01. History
History of City of Hope Phoenix
City of Hope Phoenix initially began treating patients in 2008 as the Western Regional Medical Center. For many years it was part of the Cancer Treatment Centers of America (CTCA) collection of hospitals. In early 2023, the center became City of Hope Phoenix after CTCA clinics transitioned to the new brand. This transition expands City of Hope's care network to new states. The original City of Hope network is in Southern California.
City of Hope Phoenix's staff takes a multidisciplinary approach to treating cancers. The growing City of Hope network seeks to provide top-notch care to patients across the country.
02. Mesothelioma Care
Mesothelioma Care at City of Hope Phoenix
The City of Hope Phoenix specializes in treating mesothelioma. The cancer center provides patients various treatment options and support therapies to ensure comfort throughout the process.
Experts at the cancer center specialize in chemotherapy, immunotherapy, radiation therapy, surgery and targeted therapies such as anti-angiogenesis drugs to treat mesothelioma. Their team-based approach creates a multi-faceted treatment plan for patients, and they work to treat every stage of mesothelioma cancer. Therapies to reduce symptoms are also available for patients who experience side effects as a result of treatment or their condition.
The center offers clinical trials to eligible patients for further treatment options. With integrative care to support patients with the emotional and physical hardships of a cancer diagnosis, patients are provided with a well-rounded treatment plan that promotes healthy and comfortable living. The center offers pain management, mesothelioma nutrition therapy and oncology rehabilitation to enable patients to rebuild their strength and endurance during treatment and beyond.
03. Specializations
City of Hope Phoenix Specializations
Chemotherapy
Immunotherapy
Interventional pulmonology
Radiation therapy
Surgery
Targeted therapy
04. Accreditations
City of Hope Phoenix Accreditations
American College of Radiology (ACR)
American College of Surgeons Commission on Cancer (CoC)
American Nurses Credentialing Center (ANCC) Magnet Recognition
American Society of Clinical Oncology (ASCO) Quality Oncology Practice Initiative (QOPI) Certification Program
College of American Pathologists (CAP)
The Joint Commission's Gold Seal of Approval for Lung Cancer Certification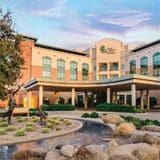 Get Help Contacting City of Hope Phoenix