The MCA Blog

Melanie Bowen
Awareness Advocate for Natural Health
Author: Melanie Bowen
Date: 5/1/2013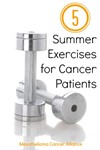 Staying active while going through treatment for cancer can be a tremendous challenge. Especially when dealing with an aggressive cancer like mesothelioma, treatments can make exercise seem the the last thing a patient wants to do. Chemotherapy, radiation therapy and surgery all have side effects that can limit energy and create physical limitations. However, here are five activities that patients can do this summer to jumpstart a low-impact exercise program to help reduce symptoms from treatments.
Author: Melanie Bowen
Date: 10/18/2012
A chronic illness such as a cancer diagnosis can be a very difficult matter to digest and a heavy burden to swallow. That is why it is important for each cancer patient to maintain a positive relationship with their nurses and other healthcare professionals so that they may feel more comfortable in their situation and optimistic for the future. From mesothelioma to breast cancer, all cancer patients deserve a caring nurse who will understand and address their concerns so that the best possible outcome for health can be attained.
Author: Melanie Bowen
Date: 7/3/2012
Prevailing medical wisdom long held the belief that massage therapy would have more negative effects on cancer patients than positive ones, but many medical professionals are challenging that ruling. The fear surrounding massage therapy for cancer patients stems back to the idea that malignant cancer tumors could spread to other parts of the body due to the superior circulation that massage therapy could provide. Many experts claim that scientific research does not support this position and that people with breast cancer, mesothelioma, and other types of cancers may benefit in several ways from receiving massage therapy.