The MCA Blog

Melanie Bowen
Awareness Advocate for Natural Health
Author: Melanie Bowen
Date: 5/1/2013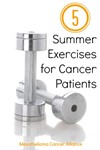 Staying active while going through treatment for cancer can be a tremendous challenge. Especially when dealing with an aggressive cancer like mesothelioma, treatments can make exercise seem the the last thing a patient wants to do. Chemotherapy, radiation therapy and surgery all have side effects that can limit energy and create physical limitations. However, here are five activities that patients can do this summer to jumpstart a low-impact exercise program to help reduce symptoms from treatments.
Author: Melanie Bowen
Date: 1/24/2013
Nutrition is an important part of preventing and fighting cancer. When cancer patients focus on nutrition, they build their natural defenses and fight disease naturally. Even vitamin C therapy is being considered as a way to fight cancer. Though the treatment is experimental, it shows how advanced the body is in repairing itself with nutrients it needs. Especially with rare cancers like mesothelioma, treatments may be limited so consider how these nutritional changes or inclusions can help to fight cancer.
Author: Melanie Bowen
Date: 10/18/2012
A chronic illness such as a cancer diagnosis can be a very difficult matter to digest and a heavy burden to swallow. That is why it is important for each cancer patient to maintain a positive relationship with their nurses and other healthcare professionals so that they may feel more comfortable in their situation and optimistic for the future. From mesothelioma to breast cancer, all cancer patients deserve a caring nurse who will understand and address their concerns so that the best possible outcome for health can be attained.
Author: Melanie Bowen
Date: 8/15/2012
When one is undergoing a cancer treatment, thoughts of confusion, uncertainty, and pressure can be at the forefront of their minds. It can be extremely difficult to find time to relax and ease your mind amidst all the doctor appointments, days where rest is needed or simple thoughts about the future. However, there is hope and a safe alternative to gaining a piece of mind for both body and spirit—that hope lies within Reiki treatment.
Author: Melanie Bowen
Date: 7/3/2012
Prevailing medical wisdom long held the belief that massage therapy would have more negative effects on cancer patients than positive ones, but many medical professionals are challenging that ruling. The fear surrounding massage therapy for cancer patients stems back to the idea that malignant cancer tumors could spread to other parts of the body due to the superior circulation that massage therapy could provide. Many experts claim that scientific research does not support this position and that people with breast cancer, mesothelioma, and other types of cancers may benefit in several ways from receiving massage therapy.
Author: Melanie Bowen
Date: 4/27/2012
It's no secret that life can get tough. There are things that happen beyond our control, like a cancer diagnosis, that can turn life upside down and make you feel down, but it's important to remember that things will get better if you take a proactive approach in making things better. Physical health and mental health go hand and hand, and there are several ways in which you can ease your mind and also improve your health while dealing with mesothelioma cancer.
Author: Melanie Bowen
Date: 1/27/2012
People who study human behavior and psychology champion the power of goals; setting goals helps to bolster strength and create optimism. In what better ways to channel hope - Work towards your goals, realize your choices, and gain a sense of personal power and control!
Author: Melanie Bowen
Date: 1/2/2012
It is not uncommon to experience a plethora of emotions when your doctor informs you that you are suffering from an illness or disease. At first you may feel shock and disbelief, which is likely to turn into denial and then anger. After your anger subsides you may feel depressed or resigned. Through it all, as humans we tend to focus on the unknown and fear of what we may not understand completely.
Resources for Mesothelioma Patients and Their Families