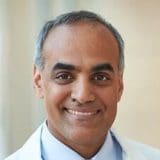 Dr. Sunil Singhal
Director of the Thoracic Surgery Research Laboratory
---
Affiliated Treatment Facilities
Perelman Center for Advanced Medicine
Contact Information
Penn Thoracic Surgery Perelman
3400 Civic Center Boulevard
Philadelphia, PA 19104
(800) 789-7366
01. Doctor Overview
Doctor Overview
Dr. Sunil Singhal is Director of Thoracic Surgery Research Laboratory at Penn Medicine at the University of Pennsylvania. He specializes in lung cancer and esophageal cancer, including challenging resection surgery and treating advanced-stage disease.
Dr. Singhal founded the University of Pennsylvania School of Medicine's Thoracic Surgery Research Laboratory in 2007 and has since received numerous awards and grants in recognition of his work. The Thoracic Surgery Research Laboratory aims to create new treatment protocols for diseases of the chest, including mesothelioma and other lung and esophageal cancers. Research efforts of this lab generally focus on molecular biology, immunotherapy, nanotechnology, and gene therapy. Since its creation, Dr. Singhal's research lab has developed a new approach to prevent recurrent disease after surgery, patented a new bronchoscope and initiated patient enrollment in clinical trials analyzing a new method of cancer imaging using nanotechnology.
A published author of over 100 journal articles, Dr. Singhal has also contributed chapters to numerous published books and has written reviews, abstracts, case reports and editorials, in addition to sharing his expertise via educational media outlets.
02. Fast Facts
Doctor Fast Facts
Main Specialty: Thoracic Surgery
Other Interests & Specialties: Thoracic surgery, esophageal cancer, lung cancer, thymoma, Barrett's esophagus, robotic surgery, video-assisted thoracic surgery (VATS), minimally invasive lung surgery, small cell lung cancer, non-small cell lung cancer and malignant mesothelioma.
Certifications, Awards & Accolades: American Board of Thoracic and Cardiac Surgery Certification, American Board of Surgery Certification, America's Top Doctors, featured in Philadelphia magazine's Top Docs Issue, member of National Society of Thoracic Surgery Workforce for Evidence-Based Surgery, American College of Chest Physicians, American Association for Cancer Research and the National Association for Academic Surgery
Education & Experience:
Medical Degree from University of Pennsylvania School of Medicine
Internship and Residency at John Hopkins Hospital
Fellowship at the Hospital of the University of Pennsylvania
Research fellowship at the University of Pennsylvania's Cancer Molecular Training Program
03. Publications
Publications
Intraoperative near-infrared imaging of mesothelioma. Translational Lung Cancer Research. June 2017;6(3):279-284. doi: 10.21037/tlcr.2017.05.01
Intraoperative fluorescence imaging in thoracic surgery. Journal of Surgical Oncology. August 2018;118( 2):344-355. doi: 10.1002/jso.25149
The value of delayed phase enhanced imaging in malignant pleural mesothelioma. Journal of Thoracic Disease. August 2017;9(8):2344-2349. doi: 10.21037/jtd.2017.07.86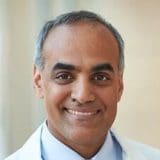 Get Help Contacting Dr. Sunil Singhal