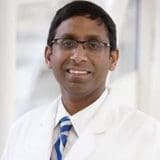 Dr. Sai Yendamuri
Director of the Thoracic Surgery Laboratory
---
Affiliated Treatment Facilities
Contact Information
Elm and Carlton Streets
Buffalo, NY 14263
(716) 845-2300
01. Doctor Overview
Doctor Overview
Dr. Sai Yendamuri first joined Roswell Park during his fellowship in 2007, then seeking out a position that would allow him to treat lung cancer patients while also collaborating with other physicians and oncologists to expand his knowledge and practice. The multidisciplinary technique at Roswell secured his interest, leading to almost a decade of work.
In addition to his work in the United States, Dr. Yendamuri has passionately made a difference in his home country, India. There are very few thoracic surgeons in India, yet a high number of tuberculosis cases. Dr. Yendamuri has strived to increase awareness of the issue, help train future surgeons and has even performed some thoracic operations himself. Dr. Yendamuri believes, "As a doctor, you can have an immediate and lasting impact on people around you." His philosophy of practicing medicine embraces the importance of his belief that each patient should have an individualized treatment plan to meet his/her specific medical situation.
Dr. Yendamuri's clinical practice focuses on the treatment of thoracic malignancies through surgery with a specialty of minimally invasive thoracic surgical procedures, particularly for mesohtelioma and lung cancer. Among Dr. Yendamuri's special interests are predicting risk using genomic markers, thoracic surgical training on a global level, molecular staging of thoracic malignancies and lung cancer screening. Recently, Dr. Yendamuri served as the principal investigator of a clinical trial focusing on photodynamic therapy for patients with epithelioid malignant pleural mesothelioma.
02. Fast Facts
Doctor Fast Facts
Main Specialty: Thoracic Surgery
Other Interests & Specialties: General surgery, cardiac surgery, thoracic surgery, mesothelioma, photodynamic therapy, esophageal cancer, risk prediction using genetic markers, mediastinal tumors, lung cancer, minimally invasive thoracic surgery and tracheal surgery.
Certifications, Awards & Accolades: American College of Surgeons Fellow, American Board of Surgery Certification in Thoracic and Cardiac Surgery, American Board of Surgery Certification in Surgery, member of the Association for Academic Surgery, member of the Society of University Surgeons, member of the American College of Surgeons, member of the American College of Chest Physicians, member of the Society for Thoracic Surgery, member of the American Association for Thoracic Surgery
Education & Experience:
Medical Degree from All India Institute of Medical Sciences
Residency in General Surgery at Christiana Care Health Services
Residency in General Surgery at New York Hospital Medical Center of Queens/Cornell University
Residency in Thoracic Surgery at University of Texas MD Anderson Cancer Center
Fellowship in General Surgery at University of Pennsylvania
Fellowship in Surgery at Barnes Jewish Hospital
Internship at University of Pennsylvania Health System
03. Publications
Publications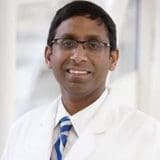 Get Help Contacting Dr. Sai Yendamuri