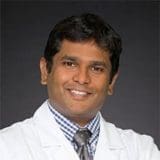 Dr. Pragatheeshwar Thirunavukarasu
Surgical Oncologist
---
Affiliated Treatment Facilities
Cape Fear Valley Medical Center
Contact Information
1638 Owen Drive
Fayetteville, NC 28304
(910) 987-5706
01. Doctor Overview
Doctor Overview
Dr. Pragatheeshwar Thirunavukarasu earned his medical degree at Madras Medical College in Chennai, India before completing extensive additional medical training in the United States. To fully develop his skillset, Dr. Thirunavukarasu completed three fellowships, one each in surgical oncology, complex general surgical oncology, and hepatopancreatic biliary surgery. He is board certified in general surgery, complex surgical oncology and hepatopancreatic biliary surgery.
As part of his post-graduate studies, Dr. Thirunavukarasu worked to develop genetically modified viruses capable of infecting and killing cancer cells without harming normal cells. In clinical practice, he treats cancers of the gastrointestinal tract, pancreas, liver, and peritoneal surface (like mesothelioma). He says he hopes to help his patients by adding "years to their lives, and life to their years."
Dr. Thirunavukarasu has authored multiple peer-reviewed manuscripts and book chapters, and he has served as the editor of a surgical oncology textbook. He was previously a Surgical Oncologist and Hepatopancreaticobiliary Surgeon at the Cancer Treatment Centers of America, Tulsa.
02. Fast Facts
Doctor Fast Facts
Main Specialty: Surgical Oncology
Other Interests & Specialties: Hepatopancreaticobiliary surgery, tumors of the gastrointestinal tract, liver and pancreas and peritoneal surface malignancies.
Certifications, Awards & Accolades: American Board of Surgery Certifications in General Surgery and Complex Surgical Oncology, Americas Hepato-Pancreato-Biliary Association Certification in Hepatopancreaticobiliary Surgery
Education & Experience:
Internship in General Surgery at University of Pennsylvania
Residency in General Surgery at University of Pittsburgh
Research Fellowship in Surgical Oncology at Hillman Cancer Center at University of Pittsburgh
Clinical Fellowship in Complex General Surgical Oncology at Roswell Park Cancer Institute, Buffalo
Clinical Fellowship in Hepatopancreaticobiliary Surgery at University of Texas MD Anderson Cancer Center
Medical Degree from Madras Medical College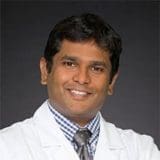 Get Help Contacting Dr. Pragatheeshwar Thirunavukarasu