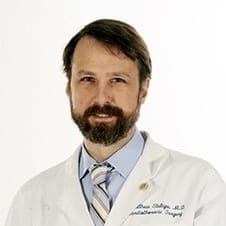 Dr. Matthew A. Steliga
Thoracic Surgeon
---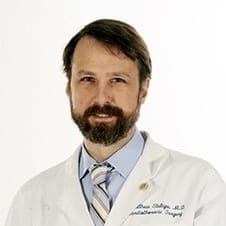 Dr. Matthew A. Steliga
Thoracic Surgeon
---
Dr. Matthew A. Steliga currently serves as a thoracic surgeon at the University of Arkansas for Medical Sciences located in Little Rock. Prior to joining the faculty of the University of Arkansas for Medical Sciences in 2009, Dr. Steliga was an instructor at MD Anderson Cancer Center in the Department of Thoracic and Cardiovascular Surgery.
Dr. Steliga is noted as being particularly experienced in minimally invasive thoracic surgery and has stated that he enjoys "challenging cases or difficult problems" where he is able to identify "the best possible outcome" for a patient. Dr. Steliga emphasizes the importance of developing individualized treatment plans for his patients that best address a patient's condition and he believes in coordinating the care of his patients with his colleagues in an effort to achieve a multidisciplinary approach to treatment that is both efficient and effective.
Dr. Steliga has published scientific articles in several medical journals including The Annals of Thoracic Surgery, Medical Oncology, Surgical Oncology Clinics of North America and The Lancet, among others.
Main Speciality: Thoracic Surgery
Other Interests & Specialties: Thoracic surgery, cardiothoracic surgery, esophageal cancer, lung cancer, minimally invasive thoracic surgery, surgery and tumors of the chest.
Certifications, Awards & Accolades: American Board of Surgery Certification in Surgery, American Board of Thoracic Surgery Certification in Thoracic and Cardiac Surgery, CMS Stage 1 Certification, ACS Fellow, Regional Top Doctor
Education & Experience:
Residency for General Surgery at University of Tennessee
Fellowship for Thoracic Surgery at Texas Heart Institute
Fellowship for Thoracic Surgery at University of Texas
Medical Degree from Anderson Cancer Center: Medical College of Wisconsin
Publications:
Endoscopic ultrasound-guided fine needle aspiration for staging of malignant pleural mesothelioma. Annals of Thoracic Surgery. September 2009;88(3):862-868. doi: 10.1016/j.athoracsur.2009.05.022
Inflammatory Myo-fibroblastic Tumor of the Lung: A Rare Primary Lung Cancer. American Journal of Respiratory and Critical Care Medicine. October 2017;196(7) doi: 10.1164/rccm.201703-0538IM
Accuracy of fine needle aspiration and core lung biopsies to predict histology in patients with non-small cell lung cancer. Medical Oncology. June 2014;31:967. doi: 10.1007/s12032-014-0967-7
Related pages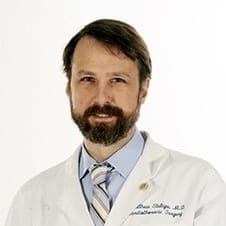 Get Help Contacting Dr. Matthew A. Steliga
Free
Mesothelioma Treatment Guide
Please fill in the form to request our FREE Mesothelioma Treatment Guide.
It will be sent to you within 24 hours.