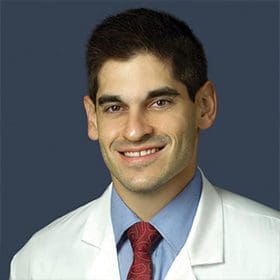 Dr. Joshua Reuss
Thoracic Medical Oncologist
---
Affiliated Treatment Facilities
Contact Information
MedStar Georgetown University Hospital
3800 Reservoir Road Northwest
Washington, DC 20007
(202) 444-2223
01. Doctor Overview
Doctor Overview
Dr. Joshua Reuss is a thoracic medical oncologist specializing in mesothelioma, lung cancer and thymoma. He practices medicine at MedStar Georgetown University Hospital. He is also an assistant professor in the Department of Medicine at Georgetown University Medical Center.
Dr. Reuss helps provide multidisciplinary care with a team of physicians. The team genetically profiles patients to help individualize treatment. He works with pulmonologists, radiation oncologists and thoracic surgeons to care for patients.
Dr. Reuss's clinical work focuses on improving novel treatments for mesothelioma and lung cancer. He is interested in developing clinical trials to improve immunotherapy responses in patients. In 2019, he received the Young Investigator Award from the Conquer Cancer Foundation of the American Society of Clinical Oncology (ASCO). The award recognized his research on the immunotherapy drugs Opdivo® (nivolumab) and Yervoy® (ipilimumab).
In 2020, the FDA approved a combination of Opdivo and Yervoy to treat pleural mesothelioma. The approval came after a large clinical trial showed improved survival in patients treated with these drugs.
02. Fast Facts
Doctor Fast Facts
Main Specialty: Thoracic Medical Oncology
Other Interests & Specialties: Adenocarcinoma, asbestos lung conditions, immunotherapy, lung cancer, lung cancer genomics, lung metastasis, mesothelioma, thymoma and thymus cancer.
Certifications, Awards & Accolades: American Board of Internal Medicine Certifications in Internal Medicine and Medical Oncology, recipient of 2019 IASLC Targeted Therapies of Lung Cancer Meeting Best Fellows Abstract Oral Presentation Award, recipient of the 2019 Conquer Cancer Foundation of ASCO Young Investigator Award, recipient of the 2021 3rd Annual EGFR Resisters Research Summit Research Award, selected participant at 2018 ASCO/AACR Methods in Clinical Cancer Research Workshop, selected participant in 2019 FDA-ASCO Hematology and Oncology Fellows Day Workshop, selected participant in 2022 JCO Precision Oncology Trainee Reviewer Mentoring Program, visiting fellow at 2019 Investigational Drug Branch – Cancer Therapy Evaluation Program of the NCI
Education & Experience:
Medical Degree from University of Rochester School of Medicine
Internship and Residency in Internal Medicine at University of Virginia Department of Medicine
Fellowship in Oncology at Johns Hopkins University School of Medicine
03. Publications
Publications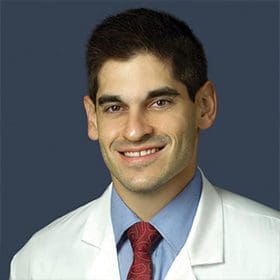 Get Help Contacting Dr. Joshua Reuss