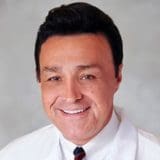 Dr. Farid Gharagozloo
Medical Director of Thoracic Surgery
---
Affiliated Treatment Facilities
Contact Information
AdventHealth Celebration
400 Celebration Place, Suite A290
Kissimmee, FL 34747
(407) 303-3827
01. Doctor Overview
Doctor Overview
Dr. Farid Gharagozloo is a board-certified thoracic surgeon. He is the medical director of Thoracic Surgery at AdventHealth Celebration, which is affiliated with the world-renowned AdventHealth Cancer Institute. As a graduate of Johns Hopkins University, Dr. Gharagozloo completed his residency in surgery at Mayo Graduate School of Medicine – Mayo Clinic. He completed fellowships in surgery at Brigham and Women's Hospital and thoracic and cardiac surgery at the Mayo Clinic College of Medicine.
Dr. Gharagozloo is a leading expert in robotic thoracic surgery. He uses his expertise to perform minimally invasive surgical techniques for advanced thoracic malignancy surgeries. His expertise includes extrapleural pneumonectomies for the treatment of mesothelioma. His focus also includes esophageal disorders and developing patents for surgical tools and techniques that improve the surgical and healing process.
In addition to Dr. Gharagozloo's clinical work and patents, he has been published in hundreds of peer-reviewed journals. His Textbook of Robotic Surgery was also selected as medical textbook of the year. Some of the medical journals he has been published in include European Journal of Cardio-Thoracic Surgery, The Journal of Cardiovascular Surgery and The Annals of Thoracic Surgery.
02. Fast Facts
Doctor Fast Facts
Main Specialty: Thoracic Surgery
Other Interests & Specialties: Esophageal disorders
Certifications, Awards & Accolades: American Board of Thoracic Surgery certification in Thoracic Surgery, recipient of medical textbook of the year for his Textbook of Robotic Surgery, recipient of research grants from the American Heart Association and The Thoracic Surgery Foundation, board member of the Society of Robotic Surgery
Education & Experience:
Medical Degree from Johns Hopkins University
Residency in surgery at Mayo Graduate School of Medicine – Mayo Clinic
Fellowship in surgery at Brigham and Women's Hospital
Fellowship in thoracic and cardiac surgery at the Mayo Clinic College of Medicine
03. Publications
Publications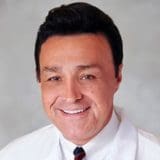 Get Help Contacting Dr. Farid Gharagozloo