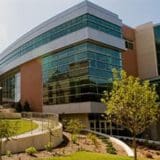 University of Nebraska Medical Center
---
Doctors Affiliated with this Treatment Facility
Contact Information
Fred & Pamela Buffett Cancer Center
505 South 45th Street
Omaha, NE 68105
(402) 559-5600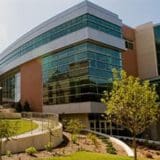 University of Nebraska Medical Center
---
Doctors Affiliated with this Treatment Facility
Contact Information
Fred & Pamela Buffett Cancer Center
505 South 45th Street
Omaha, NE 68105
(402) 559-5600
01. Mesothelioma Care
Mesothelioma Care at University of Nebraska Medical Center
The Fred & Pamela Buffett Cancer Center at the University of Nebraska Medical Center houses experts in both lung and peritoneal cancers, giving them the capability to treat different forms of mesothelioma cancer. Their team implements advanced diagnostic and treatment methods to provide patients with options for treating their cancer. Specialists at the center use a new minimally invasive biopsy option known as electromagnet navigation bronchoscopy, which is guided by the computer and allows for multiple samples to be taken at once for better analysis.
Their peritoneal cancer care involves leading treatments in surgical cytoreduction (CRS) and hyperthermic intraperitoneal chemotherapy (HIPEC), which work together to improve the quality and length of a patient's life. The treatment works by removing the visible sites of cancer surgically, combined with instilling heated chemotherapy throughout the abdominal cavity. Their lung cancer treatment center utilizes advanced treatment options such as video-assisted thoracoscopic surgery (VATS) to deliver high-quality treatment for patients with lung conditions, including pleural mesothelioma.
Clinical trials are also available to patients who are eligible, providing more options for advanced treatment options. Palliative care and personal care are provided to patients at Nebraska Medicine to help them manage symptoms and hardships associated with their cancer diagnosis. Patients can also seek support groups, nutrition help, financial counseling and other support services through the center.
02. Specializations
University of Nebraska Medical Center Specializations
Chemotherapy
Hyperthermic Intraperitoneal Chemotherapy
Immunotherapy
Palliative care
Radiation therapy
Surgical Cytoreduction
03. Accreditations
University of Nebraska Medical Center Accreditations
High Performing Hospital for Lung Cancer Surgery by U.S. News & World Report
Best Regional Hospital by U.S. News & World Report
Lung Cancer Alliance Screening Center of Excellence
04. Mesothelioma Clinical Trials
Mesothelioma Clinical Trials at University of Nebraska Medical Center
The following clinical trials are in progress or actively recruiting participants at University of Nebraska Medical Center:
---
Conditions: Neoplasms, Multiple Myeloma, Pancreatic Neoplasms, Esophageal Neoplasms, Endometrial Neoplasms, Thyroid Neoplasms, Mesothelioma, Neuroendocrine Tumors, Salivary Gland Neoplasms, Anus Neoplasms, Gallbladder Neoplasms, Bile Duct Neoplasms, Oropharyngeal Neoplasms, Nasopharyngeal Neoplasms, Nasopharyngeal Carcinoma, Urethral Neoplasms, Vaginal Neoplasms, Laryngeal Neoplasms, Mouth Neoplasms, Adenomatous Polyposis Coli, Colorectal Neoplasms, Hereditary Nonpolyposis, Testicular Neoplasms, Intestinal Neoplasms, Hypopharyngeal Neoplasms, Penile Neoplasms, Ureteral Neoplasms, Neoplasms, Plasma Cell, Peritoneal Neoplasms, Paranasal Sinus Neoplasms, Duodenal Neoplasms, Neoplasms, Unknown Primary, Lip Neoplasms, Thymus Neoplasms, Paraproteinemias
Last Updated: November 10, 2020
Status: Recruiting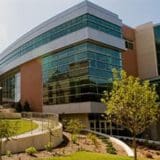 Get Help Contacting University of Nebraska Medical Center