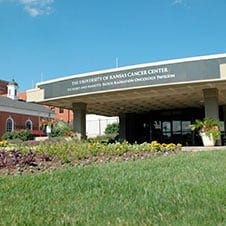 The University of Kansas Cancer Center
---
Contact Information
Richard and Annette Bloch Cancer Care Pavilion
2650 Shawnee Mission Parkway
Westwood, KS 66205
(844) 323-1227
The Richard and Annette Bloch Cancer Care Pavilion provides expert cancer care in an outpatient setting. The facility, located in Westwood, Kansas, gets its name from husband and wife pair, Richard and Annette Bloch. Their foray into cancer care began when Richard was diagnosed with terminal lung cancer in 1978.
The cancer care provided at The Richard and Annette Bloch Cancer Care Pavilion is all about personalization and ensuring the patient is at ease during their cancer journey. For instance, prior to a patient's first visit they receive a personalized appointment guide to help them navigate their first time at the center.
While a cancer diagnosis is never easy receiving care from The Richard and Annette Bloch Cancer Care Pavilion is done in a way to minimize patient discomfort. The three story building features many amenities to make a patient's time there as enjoyable as possible. Included in the facility is a cafe, an accredited boutique and appearance center as well as complimentary valet parking for all patients. Providing these services helps comfort patients, like those with mesothelioma, receiving chemotherapy and radiation treatments.
Specializations:
Advanced imaging services
Blood and marrow transplant
Chemotherapy
Outpatient laboratory services
Pediatric oncology
Accreditations:
U.S. News & World Reports Best Hospitals
National Cancer Institute (NCI) Designated Cancer Center
---
Conditions: Carcinoma, Melanoma, Carcinoma, Squamous Cell, Uterine Cervical Neoplasms, Mesothelioma, Breast Neoplasms, Cholangiocarcinoma, Nasopharyngeal Carcinoma, Lung Neoplasms, Carcinoma, Basal Cell, Squamous Cell Carcinoma of Head and Neck, Endometrial Neoplasms, Carcinoma, Non-Small-Cell Lung, Colorectal Neoplasms, Carcinoma, Neuroendocrine, Thymoma, Small Cell Lung Carcinoma, Anus Neoplasms, Vulvar Neoplasms
Last Updated: February 21, 2020
Status: Recruiting
Sorry, there are no clinical trials to display
Related pages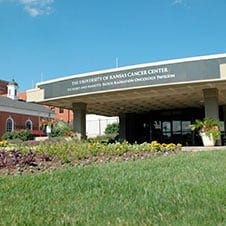 Get Help Contacting The University of Kansas Cancer Center
Free
Mesothelioma Treatment Guide
Please fill in the form to request our FREE Mesothelioma Treatment Guide.
It will be sent to you within 24 hours.