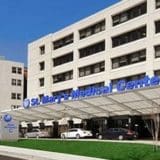 St. Mary's Medical Center
---
Doctors Affiliated with this Treatment Facility
Contact Information
2900 First Avenue
Huntington, WV 25702
(304) 526-1234
01. History
History of St. Mary's Medical Center
St. Mary's Medical Center is the largest medical facility in Huntington, West Virginia. The medical center has almost 400 beds for patient care. The facility is also the largest employer in Cabell County, where Huntington is located. Cancer patients, like those with mesothelioma cancer, receive care within the St. Mary's Regional Cancer Center.
The cancer center, which opened in 1965, treats patients using cutting-edge technology including the CyberKnife Radiosurgery System. The cancer center also offers clincial trials to patients as an additional tool to complement the more standard treatment modalities, such as radiation, surgery and chemotherapy.
Clinical trials of the highest caliber are offered through St. Mary's Regional Cancer Center thanks to their membership within the University of Kentucky Markey Cancer Center Research Network.
In addition to the treatment services provided to the Huntington community by St. Mary's Medical Center, the facility also enriches the community through their affiliation with the Joan C. Edwards Marshall University School of Medicine. St. Mary's hosts and trains medical residents in numerous specialties each year. Specialties offered include nursing, medical imaging and respiratory care.
02. Specializations
St. Mary's Medical Center Specializations
Clinical Trials
CyberKnife Stereotactic Radiosurgery
Electron Beam Radiation Therapy
Medical/Surgical Oncology
Oncology Rehab Services
Outpatient Infusion Center
Radiation Oncology
Palliative Care Program
03. Accreditations
St. Mary's Medical Center Accreditations
Accredited Radiation Oncology Practice
Designated as a Comprehensive Teaching Cancer Center by the American College of Surgeons and the Commission on Cancer
Member of the University of Kentucky Markey Cancer Center Research Network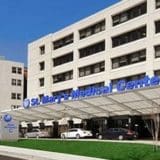 Get Help Contacting St. Mary's Medical Center