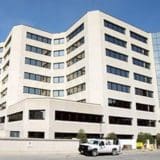 Holden Comprehensive Cancer Center
---
Doctors Affiliated with this Treatment Facility
Contact Information
200 Hawkins Drive
Iowa City, IA 52242
(800) 777-8442
01. History
History of Holden Comprehensive Cancer Center
The University of Iowa Cancer Center was established in 1980 with Richard L. DeGowin, M.D. appointed as the first director. In 1981, the National Cancer Institute (NCI) presented the center with a three-year support grant. Within the next few years, the cancer information service center opened along with the development of an expanded laboratory research initiative and the construction of new clinical care facilities. This was followed by the Des Moines' Pappajohn family donating a generous $25 million to the cancer center. These funds initiated a major renovation for the center, and in 1993, the John and Mary Pappajohn Clinical Cancer Center was opened for service. Following these donations and grants, the facility eventually offered a comprehensive level of care and the name of the center was officially changed to "The Holden Comprehensive Cancer Center."
02. Mesothelioma Care
Mesothelioma Care at Holden Comprehensive Cancer Center
The multidisciplinary team at Holden Comprehensive Cancer Center provides screening and treatment for lung cancers, including mesothelioma. The team, which includes experts in oncology, radiology, pathology, internal medicine and research, work together to provide comprehensive care to patients.
Specialists at the center utilize advanced technology to complete thoracic surgeries with video-assisted technology. Their minimally invasive surgical technology results in less pain, shorter hospital stay time and a faster recovery after surgery. The center also specializes in hyperthermic intraperitoneal chemotherapy (HIPEC), which is typically used in combination with surgical procedures for patients with peritoneal mesothelioma. The chemotherapy is delivered directly to the abdomen, as a targeted and concentrated form of chemotherapy.
Clinical trials are available to patients who fit the criteria of the study and can provide alternative treatment options for patients whose cancer is not responding to first-line treatment methods. Their research team facilitates early phase clinical trials, giving patients the opportunity to participate in leading-edge cancer research. The Behavioral Oncology Clinic at the cancer center also allows mesothelioma patients to address the psychological hardships of a cancer diagnosis, such as stress and anxiety. The care team works with patients and loved ones to help them cope with their diagnosis and address any challenges they may be facing.
03. Specializations
Holden Comprehensive Cancer Center Specializations
Extrapleural pneumonectomy
Hyperthermic intraperitoneal chemotherapy (HIPEC)
Malignant effusion drainage and pleurodesis
Pleurectomy and decortication for mesothelioma
Pneumonectomy
Video-assisted thoracoscopic surgery (VATS)
04. Accreditations
Holden Comprehensive Cancer Center Accreditations
CEO Cancer Gold Standard accreditation
National Cancer Institute (NCI) Comprehensive Cancer Center
Outstanding Achievement Award from the Program Review Subcommittee of the Commission on Cancer (COC)
Ranked 18 in comprehensive cancer centers by U.S. News & World Report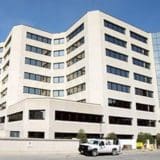 Get Help Contacting Holden Comprehensive Cancer Center