Susan Vento's husband, longtime U.S. congressman Bruce Vento, died of mesothelioma nearly 15 years ago, but Susan's fight against asbestos has never been more urgent than it is today.
Vento is in the middle of a fierce battle to defeat a bill that is backed by the asbestos companies and the U.S. Chamber of Commerce. This bill, known as the Furthering Asbestos Claims Transparency (FACT) Act of 2015, that would make it significantly more difficult for asbestos victims and their families to file claims, likely delaying their receiving compensation.
The bill would, among other things, require publicly disclosing personal information about the people seeking compensation, and likely deter some victims from filing claims at all.
"I have yet to hear a compelling reason why the legislation is needed," says Vento, whose husband died in October 2000 after serving as a Democratic congressman from Minnesota for 24 years. "This bill is meant to slow down the process and intimidate families from filing claims and seeking justice," Vento says. "It adds insult to injury for folks already harmed by asbestos and would cause (asbestos victims) to function under a set of rules that doesn't exist anywhere else in the justice system."
If the FACT Act is adopted, Vento adds in an interview with the Mesothelioma Cancer Alliance, "There would be a gigantic shift in the scale of Justice."
The Who and Why Behind the FACT Act
The FACT Act was introduced in the U.S. House of Representatives on Jan. 26 by Rep. Blake Farenthold, R-Texas. A similar bill has also been introduced in the U.S. by Sen. Jeff Flake, R-Ariz. Last month, the House Judiciary Subcommittee on Regulatory Reform, Commercial and Antitrust Law held hearings on the bill, but no asbestos victims were called to testify.
This is the third time supporters have tried to get a similar bill passed in Congress. It was first introduced in 2012, but failed to get anywhere. In 2013, a similar bill passed the U.S. House of Representatives but failed to gain approval by the Senate. At the same time, asbestos companies and Big Business have been pushing to get state laws passed that would place limits on lawsuits brought by asbestos victims. Texas, Ohio and Florida have already adopted such laws.
The FACT Act is being pushed hard by the asbestos companies and Big Business interests, who claim that the bill is needed to root out fraud by making sure that claimants aren't able to "double dip" by claiming their injury twice.
In a speech in January on the state of American Business in 2015, Thomas J. Donohue, president and chief of the U.S. Chamber of Commerce said that "America's enforcement system has turned into a shakedown operation," and that the Chamber's top priorities included "passing the FACT Act to help prevent fraudulent claims."
Lisa Rickard, president of the Chamber's Institute for Legal Reform, said in February that "Abuse of the asbestos compensation system is a national problem."
"Exploitation of the system drains the funds available to deserving claimants and forces solvent companies, as well as their shareholders and employees, to pay more than their fair share when claimants 'double dip' in court and in the trust systems," Rickard said in a statement issued in February on the day the House Judiciary subcommittee held hearings on the legislation. "The FACT Act would diminish the damaging economic ripple effect of these abuses, without impacting legitimate asbestos claims."
What Does the FACT Act Mean for Victims?
Opponents of the bill, which is known as HR 526, include the Asbestos Disease Awareness Organization, the American Association for Justice, Public Citizen, the Asbestos Cancer Victims Rights Campaign, the Alliance for Justice, U.S. PIRG and the Center for Justice and Democracy.
The bill's opponents say that the FACT Act would make it more difficult for asbestos victims to get compensation. Their argument is somewhat technical, and goes like this: Congress has previously passed legislation allowing asbestos companies to set aside funds in special trusts while remaining open for business. The FACT Act, they argue, would require these trusts to issue quarterly reports – the effect would be to cut down on the trusts' resources and make sure that victims collected less compensation. In addition, these reports would also publicly disclose personal information about the people seeking compensation.
"There is no justification for exposing families to the additional burdens set forth in HR 526," Linda Reinstein, president of the Asbestos Disease Awareness Organization, wrote in a January letter to the chairman and ranking minority member of the House Judiciary Committee. The letter added: "The resulting delay in compensation will gravely impact patients' pursuit of medical care, negatively affects all victims of asbestos exposure, and effectively limits the justice they deserve."
Ginger Horton of Candler, North Carolina, who was diagnosed with mesothelioma five years ago, put it more bluntly. "I'm shocked that there's even a possibility this could go through," Horton says in an interview. "It will make asbestos victims into victims [once] again."
Horton isn't the only one who believes that.
In June 2013, when a similar bill was being considered by Congress, The New York Times' editorial page warned: "[This bill] would allow asbestos companies to demand information from the trusts for virtually any reason, forcing the trusts to devote limited resources to responding to fishing expeditions that will slow the process of paying claims," the Times said in the editorial titled "One-Sided Bill on Asbestos Injuries."
The House Judiciary Committee hearings held on Feb. 4 included testimony from four experts – three of whom supported the FACT Act. No asbestos victims or family members were called to testify – an omission with prompted an angry letter to congressmen from nine asbestos patients or family members, including Susan Vento and Ginger Horton.
"We are the real people who matter in this debate, and yet the supporters of the FACT Act would not allow any of us to testify," the letter said. "We may have been shut out of the hearings, but we will not be silenced."
One of those who are speaking out is Courtney Davis of Durham, North Carolina, whose father Larry Davis died of mesothelioma in 2012. In an interview, she says that in many cases the FACT Act would make it difficult for asbestos victims to receive compensation or receive justice before they died. "These people don't have a long time to live," she says. "The people who are dying will never see those who essentially killed them punished. The timetable is just too short."
If the FACT Act is adopted, she says, "The devastating consequences to the victims will go on forever."
Devastating to Veterans
The FACT Act could be particularly hard on veterans, who have suffered disproportionately from asbestos-related diseases. Although veterans represent only 8 percent of the nation's population, they make up about 30 percent of all known mesothelioma deaths that have occurred in the United States, according to J. Patrick Little, national commander of the Military Order of the Purple Heart, which is based in Springfield, Va.
"Despite what the proponents of this bill claim, the FACT Act was written to benefit asbestos corporations and their insurers, not their victims," Little wrote in a letter in February to the congressional leadership. "This bill would delay compensation to veterans and their families suffering from the effects of asbestos exposure. Delaying justice for any veteran suffering from the fatal effects of these diseases is offensive to our brave men and women in uniform."
The letter continued: "In addition, the FACT Act violates veterans' privacy by forcing the asbestos trusts to publicly expose veterans' personally identifiable information. This bill unnecessarily intrudes upon all asbestos victims and their families' privacy, including our veterans who have fought bravely to defend our country."
Susan Vento says that if her husband was still alive he would be fighting passionately to protect asbestos victims and defeat the FACT Act. Bruce Vento grew up in a working class family, worked in a brewery and plastics factory to put himself through college and then took a job as a junior high school science teacher. Bruce Vento was exposed to asbestos through his early work as a laborer.
Vento served as a congressman from Minnesota's fourth district from 1977 until his death in October 2000, and was known for his efforts to help protect the environment, push for affordable housing and help the homeless. He died eight months after being diagnosed with mesothelioma.
Susan Vento vows to continue her late husband's work.
"Bruce wanted to give people a voice," Vento says. "If he was alive, he'd be screaming from the rooftops about the injustice of the [FACT Act] legislation."
—
Get the FACTs about the FACT Act! Read and share the details of the FACT Act, why it matters, and what you can do to stop it.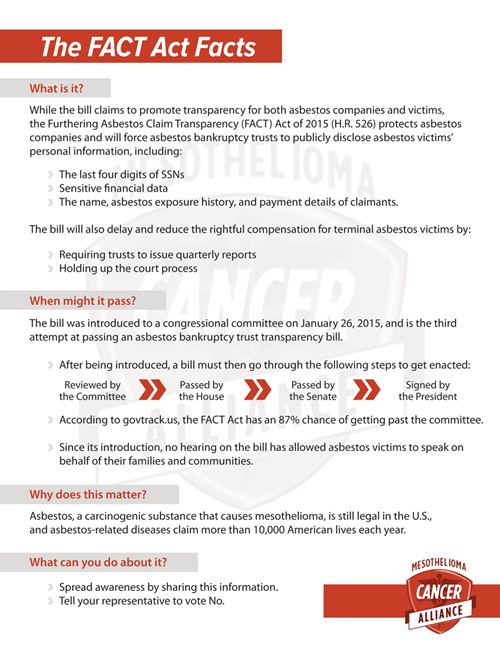 Resources for Mesothelioma Patients