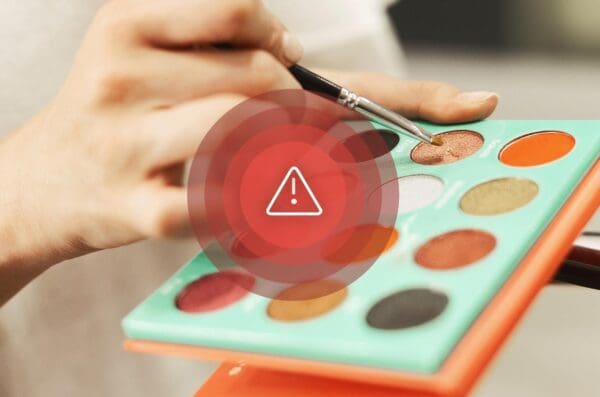 Asbestos-contaminated makeup has become more commonplace in recent months. Big-name brands like Claire's have come under fire for multiple products containing the dangerous mineral, potentially exposing children and tweens.
On September 6th, the U.S. Food and Drug Administration (FDA) issued a recall for several makeup products produced by the brand Beauty Plus Global. This is not the first time asbestos has been found in the beauty brand's makeup. The company's Contour Effects Palette 2 was recalled in June, along with Claire's JoJo Siwa collaboration palette, for containing asbestos.
---
Four Beauty Plus Global Products Test Positive for Asbestos
Beauty Plus Global is a large cosmetics and packaging manufacturer with various factories in China and across the globe. The company has its own brands, including Beauty Plus Global, City Color, Girls of City Color and Max Mell. Their cosmetics span numerous products, including eye shadow, bronzer, face powder and even City Color palettes specifically marketed to tweens.
According to the company's website, their products are distributed to over 100 countries and can be found at various large retailers like Target, Walmart, Amazon and more.
Though asbestos has not been banned in China and the country remains one of the world's top producers and importers of the dangerous mineral, the country still has restrictions in place. Today, the country mainly uses asbestos in construction materials.
Cosmetics in China are tested by the National Medical Products Administration (NMPA), formerly known as the China Food and Drug Administration. Makeup, such as the contaminated Beauty Plus products, fall under the administration's non-special use cosmetics category and undergoes strict testing. NMPA requirements include a clear list of all active ingredients and why they were used, stringent testing of any new ingredients listed, toxicity testing and more.
Despite such testing, the U.S. FDA has ordered a recall on a number of Beauty Plus Global's products because of asbestos contamination. In this latest recall, the following products are listed as containing asbestos:
Beauty Plus Global Inc. City Color Collection Matte Blush (Fuchsia), SKU #849136008807, Lot No. 1605020/PD-840
Beauty Plus Global Inc. City Color Cosmetics Timeless Beauty Palette, SKU #849136012958, Lot No. 1510068/PD-C864R
Beauty Plus Global Inc. City Color Bronzer (Sunset), SKU #849136016017, Lot No. 160634/PD-P712M
Beauty Plus Global Inc. Beauty Plus Global Inc. City Color Shimmer Bronzer (Caramel), SKU #849136017106, Lot No. 1612112/PD-840
Consumers who bought these products should discontinue use and dispose of them immediately.
FDA Puts Larger Focus on Cosmetics Testing
Research has shown that asbestos in makeup is a result of contaminated talc. Talc is another natural mineral that has been used for decades in industrial and consumer products. Though pure talc is generally considered safe, the mineral can easily become contaminated by asbestos. Natural deposits of both minerals tend to form next to each other, making it easy for miners to strike an asbestos deposit when drilling for talc.
Regulations to protect consumers from asbestos-contaminated talc have been in place since 1973, and laws pertaining specifically to the regulation of cosmetics were first enacted in 1938. However, the 1938 Federal Food, Drug, and Cosmetic Act does not require the FDA to monitor the ingredients used in these products.
In recent years, contaminated talc has become a growing concern. One of the first announcements of asbestos found in makeup came in 2017. Testing showed asbestos fibers in Claire's and Justice products, both of which are marketed toward children and tweens.
Advocates are calling for more governance of the cosmetic industry, with many calling it dangerously unregulated. Following the March 2019 recall of contaminated Claire's makeup, the FDA released a statement that they would begin taking new steps to protect consumers. The agency explained they would focus on where cosmetic companies are sourcing their talc in the first place, as well as investigate if and how raw talc or their finished products are being tested for safety.
The statement detailed that the FDA would take a closer look at what brands have used talc and any reported adverse effects related to such products. Though the agency doesn't have the authority to require brands to register products, they asked for manufacturers to voluntarily register products with a clear list of ingredients to the FDA database.
Additionally, the FDA's press release further stated that they would work with an interagency working group to draft new standards to improve the consistency of talc safety testing.
Hopefully these steps will help protect consumers and give the FDA better oversight of the cosmetic industry. Until the FDA releases further information on their new talc investigations and plans for the cosmetic industry, consumers should carefully read the ingredients list for products in their homes and goods they are considering purchasing.
---
Resources for Mesothelioma Patients