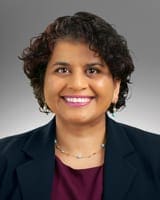 Dr. Sabha Ganai
Surgical Oncologist
---
Affiliated Treatment Facilities
Contact Information
801 Broadway North
Fargo, ND 58122
(701) 234-2251
01. Doctor Overview
Doctor Overview
Dr. Sabha Ganai is a surgical oncologist. She specializes in peritoneal surface malignancies, including peritoneal mesothelioma. Dr. Ganai currently serves as Associate Professor of Surgery at the University of North Dakota School of Medicine and Health Sciences. She is also a Clinical Investigator at Sanford Research. Dr. Ganai researches rural cancer disparities, with the goal of promoting health equity.
At Sanford Health, Dr. Ganai specializes in complex surgical oncology. She is the only board-certified surgeon in this field at the treatment center.
Dr. Ganai was the first surgeon to perform heated intraperitoneal chemotherapy (HIPEC) in southern Illinois. HIPEC is a promising treatment for peritoneal mesothelioma. Dr. Ganai also has years of experience in the multidisciplinary management of peritoneal mesothelioma and other peritoneal surface malignancies.
As a clinical investigator, Dr. Ganai has been involved in many studies. She is the author or co-author of more than 70 peer-reviewed articles and book chapters. These articles have been published in journals such as Cancer Gene Therapy, The American Journal of Surgery, Annals of Surgery and more.
02. Doctor Fast Facts
Doctor Fast Facts
Main Specialty: Surgical Oncology
Other Interests & Specialties: Hyperthermic intraperitoneal chemotherapy (HIPEC), peritoneal mesothelioma, peritoneal surface malignancies, esophageal cancer, gastric cancer, melanoma, pancreatic cancer, pancreatic cysts and sarcoma.
Certifications, Awards & Accolades: American Board of Surgery Certifications in Complex General Surgical Oncology and General Surgery, Gold Foundation: Leonard Tow Humanism in Medicine Award recipient in 2017, Society for Surgery of the Alimentary Tract: Healthcare Disparities Research Award recipient in 2015, Southern University of Illinois' Outstanding Surgical Educator of the Year recipient in 2014, Tufts University Excellence in Teaching Award recipient in 2010, American College of Surgeons appointee to the Commission on Cancer
Education & Experience:
Medical Degree from USC Keck School of Medicine
Residency at Baystate Medical Center/Tufts University School of Medicine
Fellowship in Complex General Surgical Oncology at University of Chicago Medical Center
03. Publications
Publications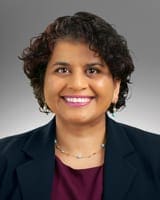 Get Help Contacting Dr. Sabha Ganai