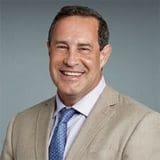 Dr. Robert J. Cerfolio
Thoracic Surgeon & Director of Clinical Thoracic Surgery and Director of NYU Langone Lung Cancer Center
---
Affiliated Treatment Facilities
Contact Information
NYU Langone Cardiothoracic Surgery Associates
530 1st Avenue, Suite 9V
New York, NY 10016
(212) 263-0420
01. Doctor Overview
Doctor Overview
Board-certified by the American Board of Surgery and the American Board of Thoracic Surgery, Dr. Robert J. Cerfolio is recognized worldwide as an expert in thoracic surgery and a leader in the field of robotic thoracic surgery in which he specializes in minimally invasive robotic lung cancer and esophageal cancer surgery. Performing over 1,000 operations per year, Dr. Cerfolio is considered to be one of the most in-demand thoracic surgeons on an international level. Currently, he serves as Director of Perlmutter Cancer Center's Lung Cancer Center and Chief of Clinical Thoracic Surgery at NYU Langone Health.
Dr. Cerfolio's research interests include outcomes and techniques in robotic thoracic surgery, efficiency in hospital operating rooms, reducing morbidity relative to lung surgery, and the management of air leaks and the pleural space.
A noted author, Dr. Cerfolio has over 125 peer-reviewed scientific articles and 40 book chapters to his name, of which he serves as first author on over 95% of these publications. Dr. Cerfolio travels extensively as a visiting professor and expert lecturer, presenting his research at scientific meetings, universities, and academic centers all over the world.
Dr. Cerfolio is a member of several professional societies, including the American Association for Thoracic Surgery (AATS), the International Association for the Study of Lung Cancer (IASLC), and the Southern Thoracic Surgical Association (STSA) of which he served as president in 2013. Dr. Cerfolio is a fellow of both the American College of Surgeons (ACS) and the American College of Chest Physicians (CHEST).
02. Fast Facts
Doctor Fast Facts
Main Specialty: Thoracic Surgery
Other Interests & Specialties: Thoracic surgery, general cardiac/thoracic surgery, adult general thoracic surgery, minimally invasive thoracic surgery, pediatric thoracic surgery, mesothelioma, thymus cancer, lung metastasis, photochemotherapy, esophageal cancer, lobectomy and small cell lung cancer.
Certifications, Awards & Accolades: American Board of Surgery Certification, American Board of Thoracic Surgery Certification, America's Top Doctors for Cancer, America's Top Doctors, CMS Stage 1, Checkbook Top Doc, First Inspiration Award in recognition of contribution or mentorship to medical student(s)/residents/fellows in cardiothoracic surgery, President's Teaching Award, Geriatric Patient Care Award
Education & Experience:
Medical Degree from University of Rochester School of Medicine and Dentistry
Fellowship for Thoracic Surgery at Mayo Graduate School Medical Education
Residency for General Surgery at Mayo Graduate School of Medicine
Residency for Urology at Cornell University Medical College
03. Publications
Publications
Endoscopic ultrasound-guided fine needle aspiration is useful for nodal staging in patients with pleural mesothelioma. Diagnostic Cytopathology. December 2007;36(1):32-37. doi: 10.1002/dc.20740
Survival and quality of life at least 1 year after pneumonectomy. Journal of Thoracic and Cardiovascular Surgery. November 2012;144(5):1139-43. doi: 10.1016/j.jtcvs.2012.07.083
Impact of staging transesophageal EUS on treatment and survival in patients with non-small-cell lung cancer. Gastrointestinal Endoscopy. February 2008;67(2):193-198. doi: 10.1016/j.gie.2007.06.052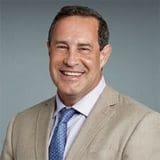 Get Help Contacting Dr. Robert J. Cerfolio