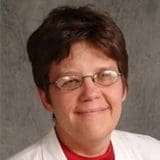 Dr. Rebecca S. Wolfer
Thoracic Surgeon
---
Affiliated Treatment Facilities
Cabell Huntington Hospital
Contact Information
Marshall Health
1600 Medical Center Drive, Suite 2500
Huntington, WV 25701
(304) 691-1200
01. Doctor Overview
Doctor Overview
Dr. Rebecca S. Wolfer is a board certified thoracic surgeon at Cabell Huntington Hospital. Dr. Wolfer entered the academic field when she took a position as a clinical assistant professor at Southern Illinois School of Medicine in Quincy, Illinois. Today, she is an associate professor in the Department of Surgery at the Joan C. Edwards School of Medicine at Marshall University.
Dr. Wolfer has authored and co-authored a number of scholarly articles that have appeared in various medical journals, including the Annals of Thoracic Surgery and the Southern Medical Journal.
02. Fast Facts
Doctor Fast Facts
Main Specialty: Thoracic Surgery
Other Interests & Specialties: General cardiothoracic surgery, thoracoscopy, trauma surgery, surgical critical care, lung diseases, lung cancer, vascular malformations, deep vein thrombosis and heart disease.
Certifications, Awards & Accolades: American Board of Thoracic Surgery Certification in Surgery, American Board of Surgery Certification in Thoracic and Cardiac Surgery, member of the Society of Thoracic Surgeons, member of the General Thoracic Club, member of Women in Thoracic Surgery, American College of Surgeons Fellow, American College of Chest Physicians Fellow, Castle Connolly Regional Top Doctor
Education & Experience:
Medical Degree from Washington University School of Medicine in St. Louis
Residency in General Surgery at Mercy Hospital Medical Center
Residency in General Surgery at Washington University Barnes-Jewish Hospital
Fellowship for Thoracic Surgery at Medical College of Wisconsin Affiliated Hospitals
03. Publications
Publications
Incidental finding of congenital thoracic malformations in adult population. West Virginia Medical Journal. June 2014;110(3):20-21
Thymic carcinoma presenting as cardiac tamponade. Southern Medical Journal. February 2004;97(2):212-3. doi: 10.1097/01.SMJ.0000105662.01648.6C
Hemodynamic effects of carbon dioxide insufflation during thoracoscopy. Annals of Thoracic Surgery. 1994 Aug;58(2):404-7.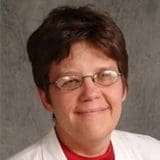 Get Help Contacting Dr. Rebecca S. Wolfer