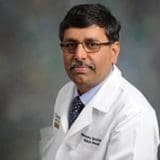 Dr. Ramaswamy Govindan
Medical Oncologist
---
Affiliated Treatment Facilities
Contact Information
Siteman Cancer Center
4921 Parkview Place
Saint Louis, MO 63110
(314) 747-7222
01. Doctor Overview
Doctor Overview
Dr. Ramaswamy Govindan is a medical oncologist at the Alvin J. Siteman Cancer Center in Saint Louis, Missouri. He is also the Anheuser Busch Endowed Chair in Medical Oncology, professor of medicine in the Division of Oncology and director of medical oncology at the Washington University School of Medicine. Dr. Govindan has a board certification in internal medicine, hematology and medical oncology and specializes in lung and thoracic cancers.
Dr. Govindan's research interests include the management and treatment of mesothelioma. He serves as a leading researcher at both Washington University School of Medicine and Siteman Cancer Center. He studies gene therapy and personalized medicine, and has a specific interest in using specialized treatment methods based on an individual's tumor genomic profile. Dr. Govindan leads a clinical trial called ALCHEMIST (Adjuvant Lung Cancer Enrichment Marker Identification and Sequencing Trial) that is facilitated on a national level. The trial is designed to provide patients with alternative, targeted treatment for advanced lung cancers.
02. Fast Facts
Doctor Fast Facts
Main Specialty: Oncology
Other Interests & Specialties: Oncology, general oncology, hematologic oncology, lung cancer, mesothelioma, esophageal cancer, non-small cell lung cancer and thoracic cancer.
Certifications, Awards & Accolades: Anheuser Busch Endowed Chair in Medical Oncology, American Board of Internal Medicine Certification in Medical Oncology, American Board of Internal Medicine Certification in Hematology, American Board of Internal Medicine Certification in Internal Medicine, member of American Society of Clinical Oncology (ASCO), Alton Ochsner Award Relating Smoking and Disease
Education & Experience:
Medical Degree from the University of Madras
Residency for Internal Medicine at Jawaharlal Institute of Postgraduate Medical Education and Research
Internship for Internal Medicine at Michael Reese Hospital and Medical Center
Residency for Internal Medicine at Michael Reese Hospital and Medical Center
Fellowship for Hematology/Oncology at Washington University
03. Publications
Publications
Phase Ib/II study of the pan-cyclin-dependent kinase inhibitor roniciclib in combination with chemotherapy in patients with extensive-disease small-cell lung cancer. Lung Cancer. September 2018;123:14-21. doi: 10.1016/j.lungcan.2018.04.022
Adjuvant Chemotherapy for Patients with T2N0M0 NSCLC. Journal of Thoracic Oncology. October 2016;11(10):1729-35. doi: 10.1016/j.jtho.2016.05.022
The Immune Landscape of Cancer. Immunity. April 2018; 48(4):812-830.e14. doi: 10.1016/j.immuni.2018.03.023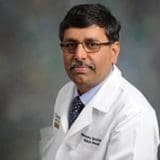 Get Help Contacting Dr. Ramaswamy Govindan