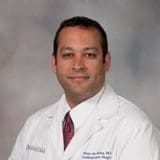 Dr. Pierre E. De Delva
Thoracic Surgeon
---
Affiliated Treatment Facilities
Contact Information
University Hospital
2500 North State Street
Jackson, MS 39216
(888) 815-2005
01. Doctor Overview
Doctor Overview
Dr. Pierre E. De Delva is currently a thoracic surgeon at the Universty of Mississippi Medical Center Cancer Institute in Jackson, Mississippi. He is board-certified in both general and thoracic surgery. His areas of practice cover a broad range of specialties including cancer, surgery, the heart, lung cancer, cardiothoracic surgery, and gastrointestinal cancer. Dr. De Delva's clinical interests focus on minimally invasive lung and esophageal surgical procedures as well as the management of benign and malignant disorders of the airway and thoracic outlet syndrome.
Dr. De Delva has authored or coauthored several scientific articles that have been published in The Annals of Thoracic Surgery and the European Journal of Cardiothoracic Surgery. His research focuses on topics such as health disparities in cancer, outcomes and quality improvement in thoracic surgery and development of biologic tracheal substitutes.
02. Fast Facts
Doctor Fast Facts
Main Specialty: Thoracic Surgery
Other Interests & Specialties: Thoracic surgery, general cardiac/thoracic surgery, vascular surgery, gastrointestinal cancers, minimally invasive thoracic surgery, thoracic surgical oncology, lung cancer, mesothelioma and minimally invasive esophageal surgery.
Certifications, Awards & Accolades: American Board of Surgery Certification in Surgery, American Board of Surgery Certification in Thoracic and Cardiac Surgery, member of the American Medical Association, member of the Southern Thoracic Surgical Association (STSA), member of the Thoracic Surgery Program Directors Association (TSDA), member of the American College of Surgeons (ACS) Commission on Cancer, member of the Society of Thoracic Surgeons (STS), member of the International Association for the Study of Lung Cancer (IASLC)
Education & Experience:
Medical Degree from Emory University School of Medicine
Residency in General Surgery at Massachusetts General Hospital
Residency in General Thoracic Surgery at Massachusetts General Hospital
Fellowship in Thoracic Surgery at Massachusetts General Hospital
Fellowship in Minimally Invasive Esophageal Surgery at University of Pittsburgh Medical Center-Mercy Hospital
03. Publications
Publications
Review of superior vena cava resection in the management of benign disease and pulmonary or mediastinal malignancies. The Annals of Thoracic Surgery. August 2009;88(2):392-7. doi: 10.1016/j.athoracsur.2009.04.068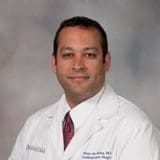 Get Help Contacting Dr. Pierre E. De Delva