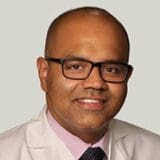 Dr. Kiran K. Turaga
Surgical Oncologist
---
Affiliated Treatment Facilities
Contact Information
5841 South Maryland Avenue
MC 1140, H212
Chicago, IL 60637
(888) 824-0200
01. Doctor Overview
Doctor Overview
A board-certified surgeon, Dr. Kiran Turaga holds several positions at the University of Chicago Medicine Comprehensive Cancer Center. He serves as the Vice Chief, Section of General Surgery and Surgical Oncology. He is also the director of the Surgical Gastrointestinal Cancer Program and the Regional Therapeutics Program. Dr. Turaga is also a professor of surgery at the University of Chicago Medicine Comprehensive Cancer Center. As a graduate of All India Institute of Medical Sciences, Dr. Turaga completed his internship and residency at Creighton University Medical Center. He completed his fellowships at Moffitt Cancer Center and the University of Pittsburgh Medical Center.
Dr. Turaga is a surgical oncologist with a special interest in the treatment of advanced malignancies, including metastatic cancers. He is an expert in heated intraperitoneal chemotherapy (HIPEC) which is a heated chemotherapy wash administered to the abdominal cavity after surgery to remove tumors and lesions. He treats a wide range of abdominal and peritoneal diseases, including colon cancer, appendix cancer, mesothelioma and malignant bowel obstructions.
Dr. Turaga is a clinical researcher with a focus on the development of novel diagnostics and therapeutics for oligometastatic cancer including mesothelioma. He is also interested in studying how big data systems can be used to provide the most optimal, cost-effective patient care.
In addition to Dr. Turaga's clinical work, he is an influential researcher who has published more than 100 peer-reviewed articles. He is an international authority on peritoneal surface disease. Some of the medical journals he has been published in include Annals of Surgical Oncology, British Journal of Cancer and Journal of Oncology Practice. Peritoneal mesothelioma is explored in several of his publications.
02. Fast Facts
Doctor Fast Facts
Main Specialty: Gastrointestinal Surgery
Other Interests & Specialties: Heated intraperitoneal chemotherapy (HIPEC), general surgery, surgical oncology, mesothelioma, peritoneal disease, appendix cancer, colon cancer, desmoplastic small round cell tumors, locally advanced complex malignancies, malignant melanoma, malignant bowel obstruction, minimally invasive surgery, retroperitoneal sarcomas and metastatic malignancies.
Certifications, Awards & Accolades: American Board of Surgery Certification in General Surgery, Sharon Wadina Endowed Professor of Sarcoma Research, Lee Biblo Award for Professional Excellence, Bucksbaum Senior Faculty Scholar for Clinical Excellence in 2018, Distinguished Faculty in Program Innovation Award in 2019, member of the Mesothelioma Research Foundation Scientific Advisory Board
Education & Experience:
Medical Degree from All India Institute of Medical Sciences
Internship at Creighton University Medical Center
Residency at Creighton University Medical Center
Fellowship at Moffitt Cancer Center
Fellowship at University of Pittsburgh Medical Center
Languages Spoken:
03. Publications
Publications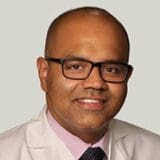 Get Help Contacting Dr. Kiran K. Turaga