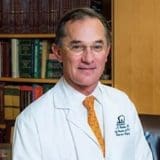 Dr. John A. Chabot
Chief of the Division of GI & Endocrine Surgery and Executive Director of the Pancreas Center
---
Affiliated Treatment Facilities
Contact Information
161 Ft. Washington Avenue, Suite 819
New York, NY 10032
(212) 305-9468
01. Doctor Overview
Doctor Overview
With nearly three decades of medical experience, Dr. John A. Chabot is an expert in the surgical treatment of pancreatic cancer and peritoneal mesothelioma. Upon completion of his residency in 1991, Dr. Chabot signed on as surgical chief of the thyroid clinic at NewYork-Presbyterian and assistant professor of surgery at Columbia University. He has remained at the hospital, in increasingly senior positions, ever since. Throughout the years, Dr. Chabot has remained satisfied and challenged at NewYork-Presbyterian because of the hospital's depth of expertise and its culture of innovation. Dr. Chabot has researched and published numerous articles and abstracts on the surgical treatment of pancreatic, parathyroid, thyroid and liver disease, as well as peritoneal mesothelioma.
02. Fast Facts
Doctor Fast Facts
Main Specialty: General Surgery
Other Interests & Specialties: Cancer care, pancreatic disease, cysts, surgery, tumor and cancer, mesothelioma, thyroid cancer, liver cancer, hepatobiliary pancreas disease, pancreas and biliary tract surgery, gastrointestinal cancer, liver resection surgery, sarcoma, pancreatitis laparoscopic cholecystectomy and jaundice.
Certifications, Awards & Accolades: American Board of Surgery Certification in Surgery, named one of New York Magazine's Top Doctors, Jerry Gliklich Practitioner of the Year Award, Teaching Award in Surgery for Excellence in Teaching and Mentoring
Education & Experience:
Medical Degree from Dartmouth Medical School
Internship at Columbia Presbyterian Medical Center
Residency at Columbia Presbyterian Medical Center
Fellowship at Dartmouth-Hitchcock Medical Center
03. Publications
Publications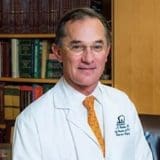 Get Help Contacting Dr. John A. Chabot