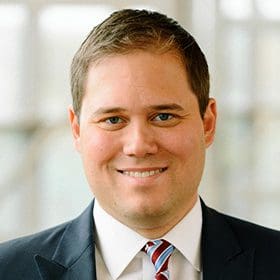 Dr. J. Matthew Reinersman
Thoracic Surgeon
---
Affiliated Treatment Facilities
Contact Information
OU Health Stephenson Cancer Center – Thoracic Cancer Clinic
800 NE 10th Street, Suite 4500
Oklahoma City, OK 73104
(405) 271-1632
01. Doctor Overview
Doctor Overview
Dr. J. Matthew Reinersman is a thoracic surgeon and oncologist in Oklahoma City. He treats various thoracic cancers like lung cancer and pleural mesothelioma.
Dr. Reinersman's practice often includes emerging methods and new technologies, like robotic surgery. He helped introduce the use of this surgery method at OU Health – University of Oklahoma Medical Center. Dr. Reinersman often uses robotic surgery for lung cancer and other masses in the chest. Robotic surgery may not be appropriate for some patients. In these cases, other treatments or types of surgery may be available.
Dr. Reinersman is also the Director of the Lung Cancer Screening Clinic. This clinic is part of the OU Health Stephenson Cancer Center. Screenings are an important tool for early cancer detection and treatment. Patients with early-stage cancer may have different treatment options available than late-stage patients.
During his time as director of the Lung Cancer Screening Clinic, the OU Health Stephenson Cancer Center has achieved national recognition. The GO2 Foundation for Lung Cancer designated the center as a Screening Center of Excellence.
Various prestigious medical journals have published Dr. Reinersman's articles about malignant thoracic treatments. These journals include Annals of Cardiothoracic Surgery and Annals of Surgical Oncology.
02. Fast Facts
Doctor Fast Facts
Main Specialty: Thoracic Surgery
Other Interests & Specialties: Benign esophageal disorders, chest wall surgery, enhanced recovery after surgery (ERAS), LINX reflux management system for ​GERD, mesothelioma, navigational bronchoscopy, preoperative risk stratification, pulmonary metastasectomy, robotic/minimally invasive esophagectomy for esophageal cancer, robotic/​VATS lobectomy for lung cancer and uniportal VATS.
Certifications, Awards & Accolades: American Board of Surgery Certification in General Surgery, American Board of Thoracic Surgery Certification in Thoracic Surgery, champion of the 2014 Masters Cup of Thoracic Surgery, fellow of the American College of Surgeons, member of the Society of Thoracic Surgeons, the Southern Thoracic Surgical Association, and the General Thoracic Surgical Club, nominee for the 2012 String of Pearls Award, peer reviewer for The Annals of Thoracic Surgery and the European Journal of Cardio-Thoracic Surgery, recipient of the 2014 AATS Graham Foundation Intuitive Surgical Robotics Fellowship Award, recipient of the 2014 OT Clagett Travel Fellowship Award
Education & Experience:
Medical Degree from Southern Illinois University School of Medicine
Research Fellowship at Memorial Sloan-Kettering Cancer Center
Residency in General Surgery at Georgetown University
Residency in Thoracic and Cardiovascular Surgery at Mayo Clinic
Residency as a Thoracic Surgery Research Scholar at Memorial Sloan-Kettering Cancer Center
03. Publications
Publications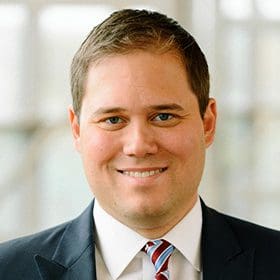 Get Help Contacting Dr. J. Matthew Reinersman