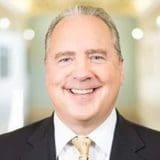 Dr. Daniel L. Miller
Surgical Director
---
Affiliated Treatment Facilities
Contact Information
1411 Laney Walker Boulevard
Augusta, GA 30912
(706) 721-6744
01. Doctor Overview
Doctor Overview
Dr. Daniel Miller practices thoracic surgery in addition to continuing his research. His research interests include the treatment of CT detected small non-small lung cancers and their pathologic characteristics to determine survival rate and recurrence, trimodality treatment of malignant mesothelioma, as well as the development of a minimally invasive treatment program for thoracic malignancies.
Specifically relating to mesothelioma, Dr. Miller is studying the utilization of proteinomics for the diagnosis of malignant mesothelioma on the basis of analysis of pleural fluid in patients with significant asbestos exposure as well as the evaluation of hyperthermic pleural lavage for the treatment of malignant pleural effusions.
Dr. Miller has been able to share his knowledge and experience through a variety of publications, while also working with other physicians and experts in the field through his various memberships. Dr. Miller has authored and co-authored a number of professional articles and abstracts. He also serves on the editorial board of the General Thoracic Surgery Education Project for the Thoracic Surgery Directors Association.
During the past two decades of his career, Dr. Miller has held several professional and clinical positions. He co-directed the Lung Transplant Program at the University of Louisville Hospitals, also serving as Chief of General Thoracic Surgery. He was an associate professor of surgery at Mayo Medical School and the Emory University School of Medicine, where he was also the Kamal A. Mansour Professor of Thoracic Surgery and Chief of Thoracic Surgery. Dr. Miller also previously directed the Thoracic Oncology Program at Winship Cancer Institute. Before his current position, he practiced at the Cancer Treatment Centers of America.
02. Fast Facts
Doctor Fast Facts
Main Specialty: Thoracic Surgery
Other Interests & Specialties: Minimally invasive thoracic surgery, thoracic surgical oncology, hyperthermic pleural lavage for metastatic pleural mesothelioma, thoracic malignancies.
Certifications, Awards & Accolades: ACS Fellow, Super Doc Award, Patient's Choice Award, First Annual Academic Academy Award Winner, Patient's Choice Award for Thoracic Surgery, Outstanding Physician Award
Education & Experience:
Fellowship at the Mayo School of Graduate Medical Education
Residency at Georgetown University Hospital
Medical Degree from University of Kentucky College of Medicine
03. Publications
Publications
Lung Cancer Screening Benefits and Harms Stratified by Patient Risk: Information to Improve Patient Decision Aids. Annals of the American Thoracic Society. January 2019. doi: 10.1513/AnnalsATS.201810-690RL
Perioperative mortality and morbidity after sublobar versus lobar resection for early-stage non-small-cell lung cancer: post-hoc analysis of an international, randomised, phase 3 trial (CALGB/Alliance 140503). The Lancet Respiratory Medicine. December 2018;6(12):915-924. doi: 10.1016/S2213-2600(18)30411-9
Role of thoracic surgeons in the diagnosis of idiopathic interstitial lung disease. The Annals of Thoracic Surgery. June 2005;79(6):2172-2179. doi: 10.1016/j.athoracsur.2004.06.103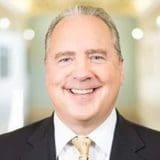 Get Help Contacting Dr. Daniel L. Miller