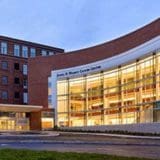 University of Rochester Medical Center
---
Contact Information
Wilmot Cancer Institute
90 Crittenden Boulevard
Rochester, NY 14642
(585) 275-5830
01. Mesothelioma Care
Mesothelioma Care at University of Rochester Medical Center
The University of Rochester Medical Center is home to the Wilmot Cancer Center and is among the best providers of cancer treatment in Western New York. The University of Rochester Medical Center has several different locations. Mesothelioma patients typically receive care through the Wilmot Cancer Institute, where their main specialty is pleural mesothelioma.
As a less common cancer, mesothelioma is categorized as a lung cancer at Wilmot with overlapping treatment techniques. Treatment options for mesothelioma cancer may include surgery, radiation, chemotherapy, targeted therapy, immunotherapy, laser therapy and photodynamic therapy. Wilmot Cancer Institute utilizes the latest technology and techniques to allow patients to get the best care possible. The center was one of the first in the country to use stereotactic radiation therapy, a targeted treatment that can deliver high doses of radiation directly to the mesothelioma tumor and have minimal impact on surrounding tissue.
Patients undergoing cancer treatment at UR Medical Center can participate in support groups during their journey for additional support, while also utilizing Wilmot's social work team for emotional, financial and social help.
02. Specializations
University of Rochester Medical Center Specializations
Immunotherapy
Lung cancers
Pleural mesothelioma
03. Accreditations
University of Rochester Medical Center Accreditations
Nursing Magnet Hospital recognition
Recognized as nation's leading program to helping cancer patients cope with treatment side effects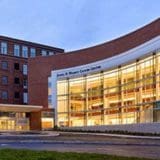 Get Help Contacting University of Rochester Medical Center