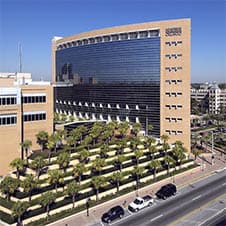 ---
Contact Information
Rod Taylor Thoracic Care Center
22 West Underwood Street
4th Floor
Orlando, FL 32806
(407) 648-5384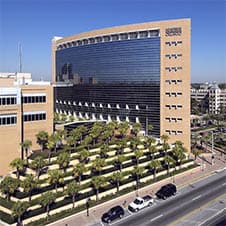 ---
Contact Information
Rod Taylor Thoracic Care Center
22 West Underwood Street
4th Floor
Orlando, FL 32806
(407) 648-5384
01. Mesothelioma Care
Mesothelioma Care at UF Health Cancer Center
The Rod Taylor Thoracic Care Center at Orlando Health UF Health Cancer Center is comprised of board-certified surgeons, medical and radiation oncologists, pathologists, radiologists, nurses, therapists and counselors.
The Rod Taylor Thoracic Care Center provides exceptional care from specifically trained thoracic surgeons who focus on care for patients with lung, esophageal and other cancers malignancies in the chest including, mesothelioma. The devoted, multidisciplinary healthcare team works together to evaluate and determine the most effective means of treatment for each patient.
Malignant pleural mesothelioma occurs as a rare, malignant tumor originating from mesothelial cells surrounding the lungs. The thoracic surgeons at the Rod Taylor Thoracic Care Center are specifically trained to perform advanced surgery of thoracic tumors and use the most minimally invasive techniques for diagnosing, staging and treating various thoracic cancers.
The center was a pioneer in Central Florida for using the minimally invasive lung surgery procedure, video-assisted thoracic surgery (VATS), and the robotic thoracic surgery known as the Da Vinci Surgical System. They were also the first hospital to perform routine CT screenings that detect lung cancers that are rarely presented on an X-ray.
02. Specializations
UF Health Cancer Center Specializations
Chemotherapy
Integrative medicine
LINX device
Lung cancer screenings
MRIdian treatment
Radiation therapy
Robotic thoracic surgery
Thoracic cancer clinical trials
03. Accreditations
UF Health Cancer Center Accreditations
American College of Surgeons (ACoS) Commission on Cancer Accreditation
Florida Cancer Center of Excellence Award
Lung Cancer Alliance Screening Center of Excellence
Medical Oncology Certification
Radiation Oncology Accreditation
04. Mesothelioma Clinical Trials
Mesothelioma Clinical Trials at UF Health Cancer Center
The following clinical trials are in progress or actively recruiting participants at UF Health Cancer Center:
---
Conditions: Neoplasms, Melanoma, Carcinoma, Renal Cell, Mesothelioma, Cholangiocarcinoma
Last Updated: October 7, 2020
Status: Recruiting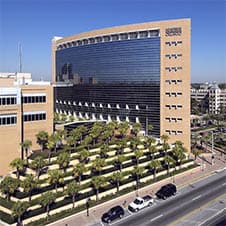 Get Help Contacting UF Health Cancer Center
Free
Mesothelioma Treatment Guide
Please fill in the form to request our FREE Mesothelioma Treatment Guide.
It will be sent to you within 24 hours.