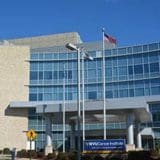 Mary Babb Randolph Cancer Center
---
Contact Information
WVU Health Sciences Center
1 Medical Center Drive
Morgantown, WV 26506
(304) 598-4500
01. History
History of The Mary Babb Randolph Cancer Center
The Mary Babb Randolph Cancer Center is named after Mary Katherine Babb, the wife of U.S. Senator Jennings Randolph. Mary passed away from colon cancer and left a legacy of philanthropy revolved around handicapped and underprivileged children. Her efforts and generosity toward helping individuals in need is represented through the committed care at the cancer center.
The original hospital was constructed in 1960. The facility now serves as the academic building for the Robert C. Byrd Health Sciences Center at West Virginia University. Construction of the 500,000 square-foot Ruby Memorial Hospital began in 1988, which served as a center for West Virginia University School of Medicine's clinical education and research. In April of 2009, a major renovation with a multi-million dollar expansion was completed to provide approximately 87,000 square feet of patient care services and research.
02. Mesothelioma Care
Mesothelioma Care at The Mary Babb Randolph Cancer Center
The Mary Babb Randolph Cancer Center at the WVU Cancer Institute provides advanced care for mesothelioma patients. Their Center for Lung and Esophageal Oncology houses experts in thoracic surgery and respiratory therapy, as well as medical and radiation oncologists for comprehensive treatment.
The Center for Lung and Esophageal Oncology specializes in minimally invasive robotic and laparoscopic surgeries, which allow for precise cuts and smaller incisions that lead to shorter recovery times for patients. This may be ideal for mesothelioma patients in the later stages of their diagnosis, in poor health or of an older age who are unable to undergo aggressive surgeries. They also offer advanced clinical trials that provide more treatment options and choices to patients. WVU Medicine understands the journey that a cancer patient takes when going through treatment, paying special attention to treatment side effects by offering a variety of palliative care options to improve their comfort and quality of life.
Through WVU Medicine, patients are able to utilize the hospital's support services during and after their cancer treatment. The center offers patients a survivorship program that is designed to provide long-term care, as well as support families and patients throughout the treatment process.
03. Specializations
The Mary Babb Randolph Cancer Center Specializations
Advanced laparoscopic surgery
Chemotherapy
Radiation therapy
Robotic surgery
04. Accreditations
The Mary Babb Randolph Cancer Center Accreditations
American College of Surgeons Commission on Cancer accreditation
Foundation for the Accreditation of Cellular Therapy for high quality medical and laboratory practice in cellular therapies accreditation
A Quality Oncology Practice Initiative certified practice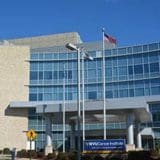 Get Help Contacting Mary Babb Randolph Cancer Center