The Mesothelioma Cancer Alliance is saddened to learn of the passing of renowned mesothelioma expert, Dr. David Sugarbaker. Dr. Sugarbaker accomplished a lot in his lifetime, dedicating his career to finding a cure for pleural mesothelioma.
He began his work at Brigham & Women's Hospital in Boston, where he helped develop the International Mesothelioma Program. This program brings together leading mesothelioma experts to develop the latest treatments and diagnostic techniques, and to better understand the disease to find a cure. In 2014, Dr. Sugarbaker moved to Houston to become the director of the Lung Institute at the Baylor College of Medicine, where he continued his important research in the trimodal treatment of pleural mesothelioma and understanding the disease's genetics to better tailor treatments and improve survival. Through his work, Dr. Sugarbaker has made a remarkable impact on the mesothelioma community.
His innovations in diagnosing and treating the rare disease helped countless patients, including mesothelioma survivor Heather Von St. James, who remembers and honors him below:
How do you properly say "Thank You" to a man when he saves your life? It is something I've tried to figure out every day of the last 13 years of my life. I've always wanted to be able to convey to him how much it means to me to raise my daughter and be a wife, to be turning 50 next January. A simple "Thank You" just doesn't seem appropriate.
I found out early the morning of August 29th that the man who saved my life almost 13 years ago passed away. He was an intensely private man, so I do not know what from, nor do I feel it is my business to ask. All I knew is that he had to take a medical leave this spring.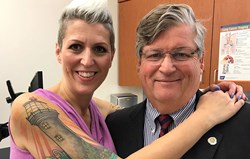 I'm thankful that I got to spend time with him at my last appointment in March, but even then, I knew something was wrong. He did not let on that he was in pain or that anything was wrong, and instead, sat down across from me and asked how I was. He told me how proud he was of me and laughed about how I never beat around the bush and he liked that about me. We laughed again, and he asked if we could take our picture. It was a tradition that we had started years ago. One day, after the news of a clean scan, I finally asked him if we could get a photo together. He was taken aback with the request at first, but quickly obliged. It was something he began to look forward to after every appointment when the news of clear scans was evident by both of our smiles.
My favorite photo is one where is he holding me close. I look back at that photo and my eyes swell with tears. He looked so proud.
As I processed the news today, I began to weep. The passing of this man is more than my loss. It is a loss for the entire medical community. It is a tremendous loss for the future of mesothelioma. He was a pioneer, who not only furthered the field of mesothelioma research, but laid the groundwork for the International Mesothelioma Program at Boston Brigham & Women's Hospital, and most recently, heading up a cutting edge program at Baylor College of Medicine in Houston, TX. This loss is felt worldwide as the news of his passing is heard. As controversial as his approach was, it worked, and gave thousands of cancer patients hope that they didn't have until meeting him.
When I was diagnosed and was told to go to him, I didn't know what to expect. But meeting him in the hallway of The Brigham, I didn't realize that the unassuming man who gave me directions to the meeting room was a world-class surgeon. He was dedicated to doing the best for every patient he saw. He surrounded himself with the best people and is responsible for training many of the top thoracic surgeons in the US.
But, I just know him as "my doctor" – the man who told me that he needed to see me as much, or more than, I needed to see him. I can only imagine how heartbreaking and grueling his work was, fighting this cancer that oftentimes has a less than desirable outcome. I would like to believe that he saw in me all the possibilities for every patient he treated.
I think that is a big part of why I do what I do, why I share my story and why I'm so passionate about awareness and advocacy. Because a "Thank You" wasn't enough for me. I wanted to give back to the man who saved my life a dozen years ago. I wanted to make him proud. He told me often I was his star patient, and I would smile ear to ear, every time.
I am his legacy, and that is not something I take lightly. For all of the upcoming surgeons, for all the future mesothelioma patients, his legacy is something that will not soon fade. He was a pioneer in the mesothelioma and thoracic field, and my hope is that someone, somewhere, will pick up his torch and go on to do even greater things. I believe that is what he would want. I also know that he is proud of me and is one of my angels now. Call me silly, but it helps with the heartache.
I'm beyond saddened for this loss, and for his family and colleagues. He was more than a doctor. He was a husband, a dad, and a good friend to so many. May he rest in peace.
Resources for Mesothelioma Patients