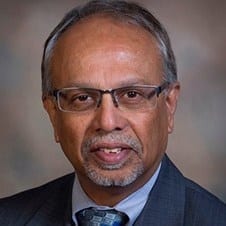 Dr. Wickii Thambiah Vigneswaran
Thoracic Surgeon
---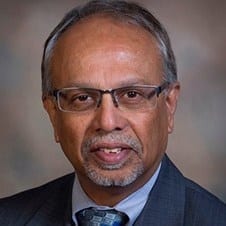 Dr. Wickii Thambiah Vigneswaran
Thoracic Surgeon
---
01. Doctor Overview
Doctor Overview
Dr. Wickii Thambiah Vigneswaran is considered one of the top Midwest regional experts in the field of lung disorders, including thoracic cancers like mesothelioma. He serves as the division director of thoracic surgery at Loyola University Medical Center and as a professor in the Department of Thoracic and Cardiovascular Surgery at Loyola University Chicago Stritch School of Medicine. Prior to assuming his current position at Loyola, Dr. Vigneswaran was associate chief of cardiac and thoracic surgery at the University of Chicago, where he was credited with developing a nationally recognized mesothelioma program.
Board certified in cardiothoracic surgery, Dr. Vigneswaran is known for his work with lung volume reduction surgery and specializes in the surgical care of mesothelioma patients. As a researcher, he has also made strides in the field of thoracic diseases. He has also served as a keynote speaker at many national and international conferences, authored more than 65 articles and book chapters and has served on the editorial review board for a number of esteemed professional journals.
02. Fast Facts
Doctor Fast Facts
Main Speciality: Thoracic Surgery
Other Interests & Specialties: General cardiothoracic surgery, thoracic surgery and surgical critical care, lung transplantation outcomes, lung cancer and mesothelioma surgery outcomes, ischemia reperfusion lung injury, and minimal access thoracic surgery.
Certifications, Awards & Accolades: Super Doc Award, ACS Fellow, America's Top Doctors Award, Top Cardiothoracic Surgeon Award, Chicago Magazine: Top Doctors, American College of Chest Physicians member, American College of Surgeons member, American Medical Association member, American Thoracic Society member, General Thoracic Surgical Club member, International College of Surgeons member, International Society of Heart and Lung Transplantation member, Royal College of Physicians and Surgeons of Canada member, Royal College of Surgeons of Edinburgh member, the Society of Thoracic Surgeons member
Education & Experience:
Internship at Kingston General Hospital
Internship at Darlington Memorial Hospital
Residency at the Mayo Clinic – Minnesota
Residency at the Children's Hospital – Denver
Fellowship for Cardiovascular Disease at Mayo Clinic School of Graduate Medical Education
Fellowship for Thoracic Surgery at Mayo Clinic School of Graduate Medical Education
Medical Degree from University of Peradeniya Faculty of Medicine
Physician Management Certificate program at Loyola University, School of Business Administration
03. Publications
Publications
MET and PI3K/mTOR as a Potential Combinatorial Therapeutic Target in Malignant Pleural Mesothelioma. PLoS One. September 2014;9(9): e105919. doi: 10.1371/journal.pone.0105919
Nuclear grade and necrosis predict prognosis in malignant epithelioid pleural mesothelioma: a multi-institutional study. Modern Pathology. April 2018; 31(4):598-606. doi: 10.1038/modpathol.2017.170
BAP1 facilitates diagnostic objectivity, classification, and prognostication in malignant pleural mesothelioma. Human Pathology. November 2015;46(11):1670-8. doi: 10.1016/j.humpath.2015.06.024
Effects of extended pleurectomy and decortication on quality of life and pulmonary function in patients with malignant pleural mesothelioma. The Annals of Thoracic Surgery. May 2015;99(5):1775-80. doi: 10.1016/j.athoracsur.2015.01.058
Radiologic-pathologic correlation of mesothelioma tumor volume. Lung Cancer. March 2015;87(3):278-82. doi: 10.1016/j.lungcan.2014.11.019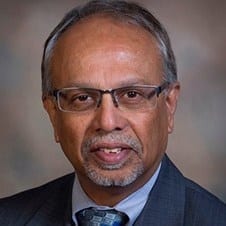 Get Help Contacting Dr. Wickii Thambiah Vigneswaran
Free
Mesothelioma Treatment Guide
Please fill in the form to request our FREE Mesothelioma Treatment Guide.
It will be sent to you within 24 hours.