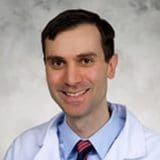 Dr. Giorgos C. Karakousis
Surgical Oncologist
---
Affiliated Treatment Facilities
Contact Information
Perelman Center for Advanced Medicine
Abramson Cancer Center, West Pavilion, 3rd Floor
3400 Civic Center Boulevard
Philadelphia, PA 19104
(800) 789-7366
01. Doctor Overview
Doctor Overview
Dr. Giorgos C. Karakousis is an associate professor of surgery at the Hospital of the University of Pennsylvania. He serves as an endocrine and oncologic surgeon as part of the Gastrointestinal Cancer Program, Melanoma and Cutaneous Malignancies Program and Sarcoma Program with Penn Medicine.
Dr. Karakousis is a national member of the American College of Surgeons (ACS), Association for Academic Surgery, Scientific Advisory Board, Melanoma International Foundation, National Society of Surgical Oncology and Society of University Surgeons. He specializes in heated intraperitoneal chemotherapy (HIPEC) for advanced abdominal cancers, such as peritoneal mesothelioma. Dr. Karakousis has also authored dozens of scientific publications about multimodal treatment options for patients with cancer.
02. Fast Facts
Doctor Fast Facts
Main Specialty: Endocrine and Oncologic Surgery
Other Interests & Specialties: Cancer risk reduction surgery, cancer surgery, cytoreduction surgery, fibrosarcoma, gastrointestinal cancer, head and neck sarcoma, intraperitoneal hyperthermic chemoperfusion, laparotomy and leiomyosarcoma.
Certifications, Awards & Accolades: American Board of Surgery certification in General Surgery, America's Top Doctors for 2017, named in Philadelphia Magazine's annual "Top Docs" issues for 2018 and 2019
Education & Experience:
Medical Degree from University of Pennsylvania School of Medicine
Residency at the Hospital of the University of Pennsylvania
Fellowship at the Hospital of the University of Pennsylvania
Fellowship at Memorial Sloan-Kettering Cancer Center
03. Publications
Publications
Cytoreductive surgery and hyperthermic intraperitoneal chemotherapy for peritoneal surface malignancy. Journal of Gastrointestinal Oncology. February 2016;7(1):1-2. doi: 10.3978/j.issn.2078-6891.2015.133
Intraperitoneal chemotherapy at the time of surgery is not associated with increased 30-day morbidity and mortality following colorectal resection. Annals of Surgical Oncology. May 2015;22(5):1664-72. doi: 10.1245/s10434-014-3975-0
Then and now: cytoreductive surgery with hyperthermic intraperitoneal chemotherapy (HIPEC), a historical perspective. Journal of Gastrointestinal Oncology. February 2016;7(1):18-28. doi: 10.3978/j.issn.2078-6891.2015.106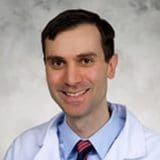 Get Help Contacting Dr. Giorgos C. Karakousis