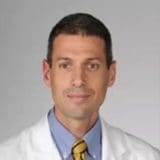 Dr. Chadrick E. Denlinger
Professor of Surgery
---
Affiliated Treatment Facilities
Indiana University Health
Contact Information
Indiana University School of Medicine
550 N. University Blvd.
Indianapolis, IN 46202
(317) 944-2394
01. Doctor Overview
Doctor Overview
Dr. Chadrick E. Denlinger earned his medical degree from the Ohio State University College of Medicine and is board certified in general surgery. He specializes in lung and esophageal cancer, gastroesophageal reflux disease (GERD), advanced lung disease and transplant and mesothelioma.
Dr. Denlinger currently serves as a Professor of Surgery at the Indiana University School of Medicine. Previousy, he was the Head of the Section of Thoracic Surgery at the Medical University of South Carolina (MUSC). Dr. Denlinger also served as the surgical director of MUSC's lung transplant program.
02. Fast Facts
Doctor Fast Facts
Main Specialty: Thoracic Surgery
Other Interests & Specialties: Mesothelioma, lung cancer, esophageal cancer, advanced lung disease, lung transplant, gastroesophageal reflux disease, cardiothoracic surgery, sarcoma and other thoracic cancers.
Certifications, Awards & Accolades: American Board of Surgery Certification in Surgery, American Board of Thoracic Surgery Certification in Thoracic and Cardiac Surgery, CMS Meaningful Use Stage 1 Certification
Education & Experience:
Residency for General Surgery at University of Virginia
Fellowship for Thoracic Surgery at Washington University
Medical Degree from Ohio State University College of Medicine
03. Publications
Publications
The HDAC inhibitor panobinostat (LBH589) inhibits mesothelioma and lung cancer cells in vitro and in vivo with particular efficacy for small cell lung cancer. AACR Journals. August 2009. doi: 10.1158/1535-7163.MCT-09-0138
Biomolecular and clinical practice in malignant pleural mesothelioma and lung cancer: what thoracic surgeons should know. European Journal of Cardio-Thoracic Surgery. October 2014;46(4):602-606. doi: 10.1093/ejcts/ezu048
A randomized phase II study of bortezomib and pemetrexed, in combination or alone, in patients with previously treated advanced non-small-cell lung cancer. Lung Cancer. June 2010;68(3):420-426. doi: 10.1016/j.lungcan.2009.07.011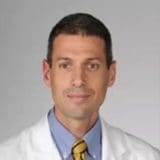 Get Help Contacting Dr. Chadrick E. Denlinger