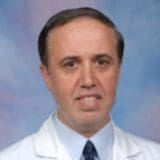 Dr. Ayman Soubani
Thoracic Oncologist
---
Affiliated Treatment Facilities
Contact Information
Wayne State University
4100 John R Street
Detroit, MI 48201
(800) 527-6266
01. Doctor Overview
Doctor Overview
Dr. Ayman Soubani is a thoracic oncologist at Barbara Ann Karmanos Cancer Institute in Detroit, Michigan. With more than 20 years of experience, Dr. Soubani treats patients with mesothelioma and lung cancer. He has authored peer-reviewed articles about critical care in lung cancer patients, pulmonary complications and treatment methods for non-small cell lung cancer.
Dr. Soubani serves as the medical director of the Medical ICU at Harper University and Hutzel Women's Hospital, which is part of Detroit Medical Center. Dr. Soubani is also a professor at Wayne State University School of Medicine in Detroit, where he received recognition for his educating excellence in the Department of Internal Medicine Pulmonary & Critical Care program.
02. Fast Facts
Doctor Fast Facts
Main Specialty: Thoracic Oncology
Other Interests & Specialties: Bone marrow transplantation, thoracic oncology, pulmonary and critical care and lung cancers.
Certifications, Awards & Accolades: American College of Physicians Fellow, American College of Chest Physicians Fellow, American Thoracic Society member, Society of Critical Care Medicine member and Michigan Thoracic Society President member, College Teaching Award at Wayne State University School of Medicine, Division of Pulmonary, Critical Care and Sleep Medicine, Wayne University Teaching Award, Professional of the Year Award from the American Lung Association of Michigan, Service Award from Wayne State University and named one of Best Doctors
Education & Experience:
Fellowship at the Pulmonary & Critical Care Fellowship Tufts, New England Medical Center
Medical Degree from University of Jordan School of Medicine
Residency in Internal Medicine at Nassau County Medical Center
Graduate Training at University of Jordan School of Medicine
03. Publications
Publications
Bronchiolitis obliterans following hematopoietic stem cell transplantation: a clinical update. Clinical Transplantation. June 2010;24(3):291-306. doi: 10.1111/j.1399-0012.2009.01122.x
The Natural Tumor Suppressor Protein Maspin and Potential Application in Non Small Cell Lung Cancer. Current Pharmaceutical Design. June 2010; 16(16):1877-81.
The Spectrum of noninfectious pulmonary complications following hematopoietic stem cell transplantation. Hematology/Oncology and Stem Cell Therapy. 2010; 3(3):143-57.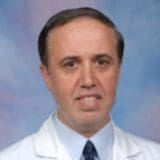 Get Help Contacting Dr. Ayman Soubani