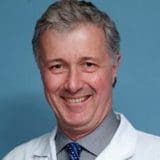 Dr. Alexander Patterson
Thoracic Surgeon
---
Affiliated Treatment Facilities
Contact Information
Siteman Cancer Center
4921 Parkview Place
Saint Louis, MO 63110
(314) 747-7222
01. Doctor Overview
Doctor Overview
Dr. Patterson has been practicing medicine for over three decades, after first receiving his medical degree from Queens University in 1974. He later went on to complete residencies in general surgery, thoracic surgery and vascular surgery.
In 1982, Dr. Patterson joined the thoracic surgery team at the University of Toronto, receiving the Royal College of Surgeons Gold Medal for his lung transplantation research. He also went on to become the Director of Toronto's Lung Transplant Program. Dr. Patterson then moved on to Washington University, where he held the titles of Evarts A Graham Professor and Chief of the Division of Cardiothoracic Surgery.
His continued affiliations and contributes to peer-reviewed journals and books has helped Dr. Patterson both expand his research and share his knowledge with others in the field.
02. Fast Facts
Doctor Fast Facts
Main Specialty: Thoracic Surgery, General Surgery, Vascular Surgery
Other Interests & Specialties: Clinical trials for lung and esophageal oncology, lung transplantation-preservation and lung surgery.
Certifications, Awards & Accolades: Royal College of Physicians and Surgeons Certifications in General Surgery, Thoracic Surgery and Vascular Surgery
Education & Experience:
Medical Degree from Queens University
Fellowship for Pulmonary Medicine at Johns Hopkins University
Residency for Surgery at Queens University
Residency for Vascular Surgery at University of Toronto
Residency for Thoracic Surgery at University of Toronto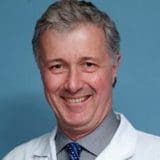 Get Help Contacting Dr. Alexander Patterson