I love fall…especially September, but for more reasons that just the cooler weather and leaves changing color. September is a month that is full of mesothelioma awareness and fundraising events all over the country!
This year, I was fortunate enough to attend three very different events in totally different parts of the country. The reason these all happen in September is that Mesothelioma Awareness Day is on September 26th, and most of these events coincide with that. I've been lucky enough to attend golf tournaments, fun runs, and now a kayaking event! All to raise awareness and money for mesothelioma research.
In this post, I'll talk about the first of these events – Kayaking 4 Meso.
Kayaking for Meso
This September started out with a trip to beautiful Upstate New York to attend the 6th Annual Kayaking 4 Meso event on the Hudson River. It started out in Stillwater at Admiral's Marina, and ended up at Halfmoon Lighthouse Park in Halfmoon, NY, through three locks and dams and close to eight miles down the river.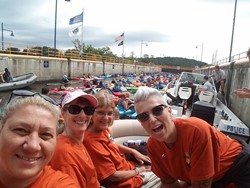 Mark Wells started the event six years ago as a way to bring awareness to mesothelioma, which his daughter, Linda, was diagnosed with when she was just 16 years old. After more than a dozen surgeries, she is doing well, and she joined in the festivities, kayaking the entire way on her own.
I was not so ambitious. Being slightly out of shape and not wanting to keel over half way through, I thought it best to ride in the pontoon boat that was provided for those of us unable to paddle. We called it the "Survivor's Pontoon" because there were six of us riding it down the river that day – most of them dear friends I've known for years, and a couple I'd never met until that day.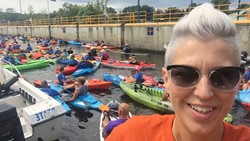 It was quite the sight being on the river that day. There were people of every age and ability present, and over 225 people registered for the event. It was simply amazing to see all those kayaks in every color paddling down the river.
As we approached the first lock and dam, you could really see how many there were!!! We brought up the end and the lock closed behind us. The entire lock was filled with boats. Kayaks in every color of the rainbow and even a beach ball being batted. There were smiles on all the faces, and the energy in the air was palpable.
I don't know if you have ever kayaked before, but I was darned impressed by the group making their way down the river. Eight miles is a long way, and the last two miles had a bit of a headwind that made paddling even more difficult. But everyone persevered and made it to the end. Along the way, different fire, police and U.S. Coast Guard boats were present to help anyone who got in trouble, but no one needed assistance – except us in the pontoon, when we ran up on a big rock in the river, getting stuck briefly but we were able to be pulled out by the police boat. We needed a little excitement near the end.
As we all approached Halfmoon Lighthouse Park, people helped others get their boats out of the river, and we had a big picnic provided by a local fire department. Nothing like a nice long ride down the river to get your appetite going!! It was at this picnic that Mark was recognized by Melinda Kotzian with the Meso Foundation's 2016 Klaus Brauch Above & Beyond Award. Mark posted the other day that his even raised over $22,000 for the Meso Foundation. It was so incredible to be a part of such a record setting event, and support my good friend Mark in his efforts.
Stay tuned next week when I talk about the second event I attended during my September mesothelioma awareness activities: Miles for Meso.
Resources for Mesothelioma Patients