The MCA Blog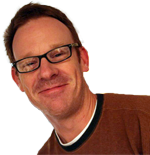 Cameron Von St. James
Husband of Mesothelioma Survivor Heather Von St. James
Author: Cameron Von St. James
Date: 8/23/2012
Ever have one of those days-- a day where it seems everything goes wrong? For me, that happens whenever I fly. It happens so often that I no longer look forward to flying. It wasn't always this way-- as a kid I loved to fly. I loved flying so much that I learned to fly a small aircraft, hang gliders, and I have even parachuted. However, commercial airline flight is a completely different beast. Commercial flight is something I almost fear. It has become an exercise in stress and anger management. Take my most recent flight as an example--
Author: Cameron Von St. James
Date: 7/26/2012
Actually I'm not mad, but I wanted to talk a little bit about cancer and anger. Anger is listed as the second of the five stages of grief, a hypothesis first introduced by Elisabeth Kübler-Ross in her book On Death and Dying. The five stages are denial, anger, bargaining, depression and acceptance. Now I should start by saying I have never read On Death and Dying. Honestly, I haven't given much thought to these stages. I am familiar enough with the book to know that Kübler-Ross states that these stages are not meant to be complete or chronological. Her hypothesis also holds that not everyone who experiences a life-threatening or life-altering event feels all five of the responses, nor will everyone who does experience them in any particular order. For me, I went straight to anger and stayed there much longer than I would have liked.
Author: Cameron Von St. James
Date: 6/18/2012
Father's Day -- for many reasons, Father's Day has always been a bit of an "odd" holiday for me. Firstly, while growing up, Father's Day was not celebrated with the same enthusiasm as Mother's Day. This isn't to say my father was less important than my mother; it's just that my mother liked to celebrate more than my father. Mother's Day was a big deal, Father's Day was just sort of… there. Mother's Day had flowers, chocolate candies, and fine clothing; we went out to eat. Father's day had wallets, bad ties and cheap cologne. We ate at home.
Author: Cameron Von St. James
Date: 1/26/2012
My wife has often commented she can't imagine what I went through after her mesothelioma diagnosis. I have only really talked to her once about my experiences as a caregiver and with this I hope to share more.
< Previous
Resources for Mesothelioma Patients and Their Families