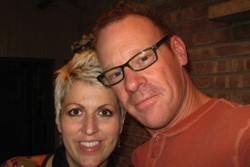 Originally, I intended to write this post on a different subject. I had finished the article and asked my wife to proofread it. The article was about a trip I took when my wife and daughter were on vacation. I had taken some time to myself to cross an item off my bucket list while they were gone. My wife read the article and then commented she was glad I took the trip. She pointed out that too many caregivers do not take time out for themselves; they get so wrapped up and consumed caring for loved ones diagnosed with cancer that they fail to take care of their own needs. Which got me thinking – what does it mean to be a caregiver?
Honestly, I'm not sure I know the answer to that question; which may seem ironic. Yes, I should know. I took care of my wife after her cancer diagnosis – malignant pleural mesothelioma. My wife Heather was diagnosed a little over three months after the birth of our only child, our daughter Lily. We went from starting a family to a cancer diagnosis all too quickly. I was in the doctor's office when she was diagnosed, I was by her side at the hospital when she had surgery, and I watched over her while she went through radiation and chemotherapy. I was with her every step of the way, yet I am confounded by the term caregiver.
I know what it means to be a husband, a father, and a best friend, but the term caregiver still confuses me. Most people would define a caregiver as the unpaid loved ones who provide physical and emotional care to someone who has been diagnosed with cancer. Caregivers may be spouses, partners, family members, or close friends and most often they are not trained for the job. Caregivers are there for their loved one 24 hours a day, 7 days a week, for months or even years. As well as physical and emotional support, a caregiver may help with finances, travel, meals, shopping, cleaning, bathing, daycare, and more. Caring for someone with cancer takes time and money and far too often it takes a toll on the caregiver's health and well-being. Caregiving is a hard job!
Over the next couple of months or so I'd like to explore my own experiences and observations as a caregiver and some of the more common challenges caregivers may face while helping a loved one with cancer. I'd like to discuss everything from dealing with the emotional stress of a cancer diagnosis to finances, legal issues, communication, and dealing with the health care system. I hope that by sharing my experiences as a caregiver I may help others who are caring for a loved one who has been diagnosed with cancer. Caregivers who take care of their own needs, get the information, the help, and the support they need are better prepared to take care of their loved ones.
-Cams
Resources for Mesothelioma Patients