Julie Roberts is a marketing professional from Scotland who recently learned about mesothelioma – not just once but twice over. In the short span of only eight weeks, both her uncle and her father passed away from the disease. Now, she is sharing her story with anyone and everyone who will listen, while also working to raise awareness in the U.K. about this rare but deadly disease and the dangers of asbestos.
Recently, the Mesothelioma Cancer Alliance (MCA) reached out to Julie with some questions about her experience with mesothelioma, her advocacy efforts, and what advice she has for those who wish to become advocates as well. Julie generously agreed to share her insights, and her answers are provided below.
MCA: You've written about how your Dad loved football (soccer) – can you tell us more about him? What are some of your favorite memories of him growing up?
Julie: The three most important things in Dad's life were family, friends and football. And not always in that in that order!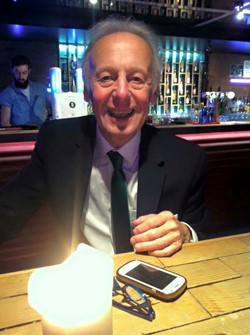 His first love was definitely football. When I was a little girl, he worked as a football coach for a team called Salvesen Boys Club. We'd go and watch them play on weekends, which was always fun. Normally my sister and I were drafted in to run on at half time with oranges! Dad was a Hibernian FC supporter (Hibs for short). We used to go and watch them play every week, witnessing a lot of highs and lows together! All part and parcel of being a football supporter.
Hibs won the Scottish Cup in May of this year ending a 114 year drought! It is the only Cup that my Dad never witnessed them winning. It was a massive moment for the Club. Over 100,000 people turned out to see them bring the Cup home. I was privileged enough to be at the game to see it happen and represent Dad. It was magical! If I could have paused time to allow Dad to be at that game I would have. Dad was a Season Ticket holder at the club. I recently bought his seat, so now I go and watch the games and can still be close to him. I love being at Easter Road Stadium, where they play, but it definitely feels different now.
Dad taught me the rules of football – I vividly remember him sketching out a football pitch on a piece of paper in order to explain how the "offside" rule works. He then used to test me at the games to see if I'd been paying attention! He also supported our national football team, Scotland, and I loved listening to his stories of traveling to Wembley Stadium in London with his friends to watch the big England versus Scotland games in the 60s and 70s, which were always emotionally charged!
Dad also loved music. Jazz in particular. His cousin was a very famous jazz player who had his own band – The Alex Welsh Jazz Band. Whenever Dad was in London, he'd go and watch them play. He also loved The Beatles and prided himself on seeing them play at The Cavern Club in Liverpool before they became famous.
He was a great socializer and was always out and about doing something with someone! He had time for everyone.
By far his greatest job was being a Grandad, or "Pops" to my 6-year-old niece. They used to have movie nights together watching Frozen.
You mention that your Dad and Uncle both died of mesothelioma within 8 weeks of each other. Can you describe how their experiences with the disease differed?
Julie: I don't think there was any difference. Both of them faced their fates with a bravery I will never, ever forget. The only difference would have been that Uncle Jim took the chemotherapy, which made him dreadfully ill, and Dad decided against all treatment. It was very, very difficult to watch it all unfold in double time. Particularly towards the end; both of them kept saying that they hadn't done anything wrong. They were absolute heroes.
MCA: Since your Dad's diagnosis, you have been vocal in your advocacy for awareness about mesothelioma and the dangers of asbestos. What are some of the things you are doing to raise awareness?
Julie: It all started with a letter I wrote the CEO of Hibernian F.C. They had created a short film called "Life with Hibs." It really made me stop and think about my own life with Hibs – I used to go with Dad every week to watch them play. So I wrote to the Club telling them about all my amazing memories how much I cherish them now that he's gone. They then asked if they could turn this into a short film as part of their Life with Hibs campaign. It is aligned with the Club's GameChanger Partnership – an initiative between Hibernian and NHS Lothian that seeks to tackle physical and mental health problems among the club's fans, aiming to deliver better health for the club's supporters and community. They pushed it out through their social channels and the response was incredible and totally unexpected! I have tried to continue the good work from there.
The Leader of the Scottish Labour Party, Kezia Dugdale, saw the film and invited me to the Scottish Parliament to hear more about my story and find out how she could help. She has written to our Health Secretary, Shona Robison, to ask why mesothelioma isn't mentioned in the Scottish Government's Cancer Strategy (March 2016), what they are doing to raise awareness of it amongst the working class population, and what their plans are to remove asbestos from all public buildings in Scotland.
Around 2,500 people are estimated to die from meso this year in the UK. We also have the highest rate of the disease in the world. It seems a really strange to NOT mention it anywhere. You would think it would be the opposite. I know in countries like America, they run television commercials specifically about asbestos and mesothelioma. I know it's a banned substance now in the UK but we are clearly still feeling the effects of it.
The current messaging in the strategy is around "Getting Checked" early, with their communications centered around the early detection of bowel, breast, and lung cancer. The line in their existing lung cancer ads is, "If you have had a cough for 3 weeks or more," which I think is confusing in the context of mesothelioma – it is not reflective of the disease as it does not present as a cough. In my Dad's case it was weight loss and a pain in between his shoulder blades. It was Dad's diagnosis that made us send my Uncle to the GP as he had the same pain, which he'd put down to RSI [repetitive strain injury] from playing golf.
Most of the people I have spoken to who been affected by mesothelioma have never heard of it. Although it is a lung cancer, I think this is too much of an umbrella term and, in my opinion, is too general. People are not making the link. I think there is too much of a natural association between smoking and lung cancer. My Dad and Uncle never smoked so they would never have thought he'd be at risk of lung cancer. People that could be at risk need to have access to life changing information. More awareness needs to be raised of mesothelioma, especially amongst this working-class demographic.
The idea behind raising awareness is NOT about scaring people or creating fear, but giving families who could be effected a better chance to have an earlier diagnosis.
If the government would be prepared to give me a small budget, I would like to run my own campaign to raise awareness and make sure the messaging and information provided is more specific to mesothelioma. If the government can't back me, then I would like to start a crowdfund initiative, as I will need a small budget to produce some marketing collateral to support my campaign. One of my ideas is to run some "in the field activity" – to take place in and around football grounds on match days. People, and men more specifically, will listen to their football club in a way they wouldn't necessarily listen to a government. They are an engaged, captive audience, bang on target.
If Hibernian had run a mesothelioma awareness campaign when my Dad was alive I can say without doubt that he would definitely have gone to get checked.
I have been asked to speak about my story at an up and coming event, which is great and I am also brainstorming a few other brilliant community based ideas with people who have come forward and want to help and I am really excited about that!
All of the activity will be getting blogged about at The Honeycomb Conjecture. I just need to get my finger out and get some content up there!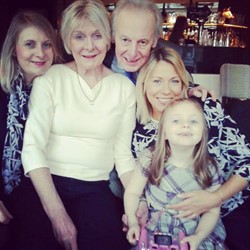 MCA: As a marketing professional, how do you think your professional skills and experience can help get the word about mesothelioma and asbestos?
Julie: I've been responding to client briefs and running marketing campaigns for over 12 years now – so I see this project as an extension of work really: insight, planning, segmenting/targeting, creative, messaging, production and cross-channel/in-the-field activation, etc. I've built up some really good connections across the industry that I know I can reach out to and ask for support.
I've also started to build networks within the mesothelioma and asbestos community that I know can help amplify activity and messaging for the work I would like to do. At the moment I am massively inspired by Mavis Nye (@grandmamavis), who has just become the first person in the UK to say she is "clear" of mesothelioma following a clinical trial she took part in. She has been instrumental within the mesothelioma community in raising awareness of the disease and has been so encouraging and supportive towards me already and amazing to meet a survivor. It's very, very humbling. She is like a little white spark in a black hole.
MCA: What advice do you have for others who are looking to raise awareness?
Julie: I read a quote recently by Maya Angelou that said "If you don't know what you're here to do, then just do some good." We can all be vehicles for change – no matter how big or small.
I would say work within your circles of influence – areas where you think you can get support and make your voice heard. It's not always about tweeting to the big star personalities, but about who has influence within the target audience you want to speak to. Who are the local, trusted personalities that can help get your message out there? In my case it was our football club, Hibernian FC, the Scottish Labour Party, and some well-known Edinburgh based media personalities who I approached direct and asked for their help.
Community is an important aspect of it I think too – local and topic-related. My Dad was well known in the football circle and a number of people have come forward with offers of help, which is so amazing. On the topic front, there are strong mesothelioma communities and charities online. Write to them and tell them what you are trying to do – they will normally support you. You need to spend a bit of time to find out who the key influencers are in your field and connect with them – Mavis Nye was one of them for me. The great thing is, the majority of people will be delighted to hear from you!
Know what you want to communicate and tell your story in an honest and heartfelt way – people will relate to you more. My story was essentially the story of family. I think a blog or vlog provide good platforms to communicate. Write to groups or people where you know your target audience are, and who you want to share your message with – for me it was my football club. Also, think about if you can work collaboratively with other related groups for the greater good? For example, I have been asked to speak at a Healthy and Safety at Work event. A collective voice can potentially give you more exposure.
Research hashtags relevant to your cause that you can use to amplify your activity and use social channels to push your messages out. You can ask for mesothelioma and asbestos groups to retweet you and any other groups where you know your target audience will be (again for me, the football club, the Scottish Labour Party). Be brave and be bold – even when you don't feel it! Write articles for charity blogs on your campaign work, try contacting your local radio station and local newspaper and ask them to cover the work you're doing.
If you need to raise money then crowdfunding is an option for this – I am going to try and use it to raise a small amount of funds so as I can get some printed marketing collateral produced to support the awareness raising campaign I would like to run.
Whilst you are doing all of the above (on top of your full time job!) make sure you write to the politicians. My work has also been incredibly supportive – allowing me to post blog articles and tweets through our own platform. My MD has been amazing and behind me the whole time.
Final point: Be prepared to be ignored. It happens, but don't take it personally and never, ever be afraid to challenge; your voice is just as valid as anyone else.
The Mesothelioma Cancer Alliance would like to thank Julie for taking the time to respond to our questions with thoughtful and well-informed answers. You can follow Julie's awareness efforts at her website, The Honeycomb Conjecture.
Resources for Mesothelioma Patients